The oft repeated porn cliché of the sexy secretary strikes again, this time courtesy of Alicia "36JJ" Loren and Divine Breasts! It was but a mere fortnight ago that I'd first featured the concept here with a bespectacled Faith Nelson starring in this fantasy role.
However, now that we have two well-endowed applicants for the position, I'm finding it most difficult to choose. As a big breast lover, my initial inclination would be to hire the JJ-cup Ms. Loren. But then, there's the inescapable fact that Faith gives good head! So I thought I'd pass the question along to you, dear readers, in the form of a little poll at the end of this blog. After reviewing Faith's photo resumé and then giving due consideration to Alicia's CV below, cast your vote as to who you'd hire as sexiest secretary.
But first, we need to assess the secretarial skill of Alicia Loren. Actually, I think Alicia looks a bit like Eden Mor – facially, at least – judging by this photo (I also think she needs to invest in a bigger bra, as that one is giving her the dreaded quadra-boob syndrome). Compressed breasts notwithstanding, here's 36JJ Alicia Loren from DivineBreasts.com:
.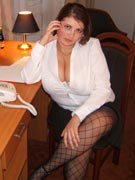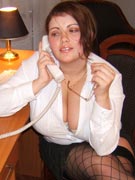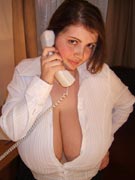 (note: actual photos downloadable from the site are 1024×768 resolution)
CLICK HERE TO VISIT ALICIA 36JJ AT DIVINEBREASTS.COM

(webmasters)