When I debuted Alexandra Moore here a little over a week ago, the biggest request by far was for some video clips of the 36H Italian beauty. Well, having cobbled together a few choice clips from Alexandra's very first video for her new site, today's the day!
But first, how about some photos? In her most recent series, Alexandra takes to the beach in nothing more than a t-shirt (which rapidly becomes a wet t-shirt, which I must admit is a most alluring look for her, especially in that second shot where she's kneeling at the shore with her legs spread apart, the surf pounding her pussy). It's not long, however, before the transparent top comes off and Ms. Moore begins frolicking fully nude in the sun, sea & sand. I do question the wisdom of going bottomless at the beach, though. Doesn't she get sand in it? Gives a whole new meaning to the term "beach bum", it does (if I were a crude person, I'd have said "sandbox" – but, alas, I'm not)!
As is the case with Alexandra, the beach has always been a sensual place for me. This has nothing to do with actually being at the beach, which I abhor, but hearkens back to an experience from my teen years. My parents were away for the day so a friend of mine brought his girlfriend around to just generally hang out. We were just sitting on the couch chatting and watching "Snoopy Come Home" on the telly when the talk turned to sex (as it does). She decided that a comparison of our cocks was in order, so, with her boyfriend's permission, she stripped me of my trousers and began stroking me (I do not believe he'd granted permission for that, though, based upon the look on his face).
The conversation went quiet, all eyes facing forward, as she casually continued to jack me off, occasionally asking me to lick her hand for lubrication. As I'd always admired her young, ample breasts bouncing braless beneath her top from afar, I took advantage of our intimate proximity to allow my hand to surreptitiously sneak beneath her t-shirt for a gentle grope. I allowed the back of my fingers to brush against the round bottom of one fleshy orb before becoming brave enough to trace circles around her already erect nipples. As there appeared to be no obvious objection from the peanut gallery, I decided just to go for it, fondling heavy handfuls of breast-flesh with abandon.
It bears mentioning that this was the first time I'd ever touched tits in my life, so, combined with her incessant stroking, that's all it took to send me off. I exploded in a cum shot that soaked the t-shirt that I was wearing. As I slowly regained my composure from the waves of orgasmic pleasure that had overcome me, I once again noticed the telly and saw Snoopy frolicking in the sand whilst "At the Beach" played in the background. Honestly, I cannot hear that song – let alone even look at a Peanuts comic strip – without having that first glorious experience with big breasts come flooding back into my consciousness. And, truly, that's the sole reason that I find the whole beach thing so immensely erotic.
But I digress, as usual, and have totally lost sight of Alexandra Moore. No, wait, here she is, courtesy of Alexandra-Moore.com…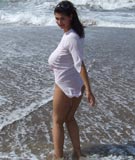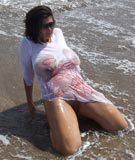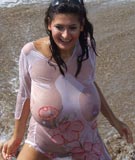 …so on to the videos! No, just teasing. After such a stimulating "at the beach" interlude like that, however could I resist heading straight for the bedroom?!
That's what my friend's girlfriend & I did, albeit more indirectly and two weeks hence from that initial erotic encounter (and, yes, I'd washed my t-shirt since then, not trusting to leave it in the laundry for my mom to do it in case she noticed the rather obvious semen stains). It was another weekend afternoon when my parents were away visiting relatives. This time, the three of us were in my bedroom, sitting on the bed, writing computer games for his new Apple ][. As it was only possible for one person to be at the keyboard coding at a time, there were always two of us left spare. So, as he sat there typing away with the other two of us reclined, I gently reached up beneath her top and began slowly kneading her breasts to arousal.
After several minutes of this, she was beside herself with horniness (having admitted earlier that her big breasts were the most erogenous zone on her body). "I need a fuck," she said as she reached one hand over to her boyfriend's crotch and began stroking his cock through his jeans. Realising he wasn't going to get any more coding work done until he'd obliged, he put down the Apple and stripped off his clothes (she, on the other hand, was naked by the time the computer hit the floor). Because I only had a single bed in my room, they decided that shagging on my carpeted floor might be more comfortable – especially since I was still in the bed. In retrospect, I think he took devilish delight in moving their entwined bodies out of my reach so I couldn't cop a feel of her jiggling tits as she reared back riding him cowgirl style. :~(
Within minutes, it was over – he'd cum, and she dismounted. He couldn't get back into his trousers fast enough and, once dressed, detached the computer and took it into the living room, attaching it to the telly there where he wouldn't be bothered. She remained naked, lying on the carpet with her knees up, feet facing me and her legs spread wide so I could see the fresh cum oozing out of her pussy. She raised her head, looked at me an just smiled. Looking between her open legs, over the mounds of her breasts and seeing that evil, metallic succubus grin (did I mention she had braces on her teeth?) was one of the most horny things I'd ever seen in my life so far. She grabbed her knees and raised her torso up off the carpet, her boobs now crushed against her slender thighs, and said simply, "Wanna fuck?" ;~)
Up until that point, the thought that this beautiful busty young thing that I'd lusted after for so long would allow me to penetrate her moist, inviting folds had never crossed my mind. Sure, I'd fantasised about her relentlessly, masturbating myself raw whilst dreaming of her curves pressed up against me, but the idea that this fantasy could become reality was almost overwhelming. I say "almost" because, without saying a word, I had my clothes off faster than you could say "knife". My pants already off and just pulling my t-shirt up over my head, she dove forward into my crotch and began furiously sucking my cock (this just happened to be my very first blowjob, too!). I leaned forward in an attempt to grasp one of her full breasts in each hand but she pushed me down, slithering her chest across my body and unexpectedly mounting me just as she had her boyfriend mere minutes before.
She deftly guided my throbbing cock into her already cum-filled pussy with an expertise indicative of her obviously extensive sexual experience. I didn't mind the fact that I was getting "sloppy seconds" in the least, as this was a dream come true. Instead of lingering on the fact that my pubic hair was now matted with someone else's cum that my thrusts were forcing from her pussy, I found myself totally captivated by how her heaving breasts slapped me in the face with every grind. I was totally lost in this fantasy / reality crossover, and didn't even notice when we'd shifted positions so that she was on her back and I was on top, her knees raised up and humping her pelvis hard onto me for maximum penetration depth so that the head of my engorged cock slammed up against her swollen cervix with every thrust.
She seemed to know, almost instinctively, that I was ready to cum. "It's okay, I'm safe," she mouthed in less than a whisper (hey, we were young and foolish and it was early 1981, before we'd been told about AIDS and such and all we were concerned with was pregnancy). I let loose with wave after wave of hot cum, thrusting more violently than ever as I did and thus mixing it liberally with her boyfriend's prior deposit until I had no more to give. I collapsed upon her for a moment, relishing the feel of her breasts pressed against my chest and my cock still feeling the aftershocks inside of her. When I rose up, still gently throbbing away within her murky depths, I saw a mischievous smile on her face that set my whole world alight. I looked into her deep blue eyes, searching for something, anything to say to express my gratitude for taking my virginity in a way I could never have imagined.
She spoke first, however, retuning the glance deep into my own eyes in a way I felt could reflect my very soul. She released her lower lip that she'd been biting and took a deep breath. Whatever could she say? Would it be something which mirrored my own infatuation with her, the deep affection that I'd silently felt for so long?? If that was indeed the case, what would we tell her boyfriend (especially considering that he was so much bigger and meaner than me)?! I waited for what seemed like an eternity for the treasured words to escape her lips until, finally, they did: "I love sex," was all she said.
If you've actually read this far, I must congratulate you on your patience in tolerating such a blatantly self-indulgent post. As a reward (which isn't really so much so as you could have just scrolled down past my drivel), here's a bit of 36H Alexandra Moore gracing the bed all decked out in her stilettos and leather fetish gear from Alexandra-Moore.com…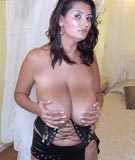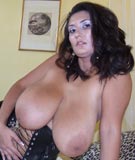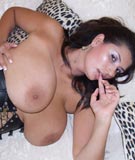 …but it was videos that I'd originally promised, wasn't it (before I'd launched into a spate of self-serving reminiscences from my misguided youth)? And, concerning that, I shan't disappoint. Without further unnecessary ado, here ("finally," I hear you say with a deep, exasperated sigh) is Alexandra Moore in her first video clips for Alexandra-Moore.com: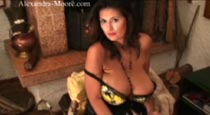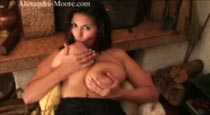 CLICK HERE TO VISIT 36H ALEXANDRA MOORE FROM ALEXANDRA-MOORE.COM

(webmasters)