Alexandra Moore's long awaited guest appearance on Divine Breasts has at last come to pass. Thus, if you've not already signed up to her Alexandra-Moore personal website, here's your chance to catch the 36H Italian goddess in the first of what will undoubtedly become many visits to the site that introduced Alicia 36JJ & Ann Vanderbilt to the on-line world of big tits (after all, Alexandra & DivineBreasts share the same webmaster).
One of the things that pleased me most about Alexandra's DB debut is the number of "big boobs from behind" shots within in the series (one of my favourite poses for a busty babe, as it gives a fair perspective on the sheer breast mass involved), thus I've included a few of these in the preview pics below. Here's H-cup Alexandra Moore in and out of her seductive white lingerie in her inaugural appearance at DivineBreasts.com…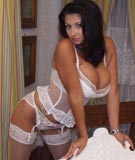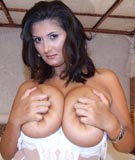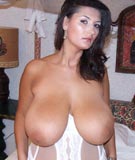 CLICK HERE TO VISIT 36H ALEXANDRA MOORE AT DIVINEBREASTS.COM
…and, since I mentioned 38J Ann Vanderbilt in the first paragraph above, it seems only appropriate that I include a few preview pics from her latest series at DivineBreasts as well (besides, Alicia – my other shout out – is always cropping up here on MyBoobSite). Truth be told, I'm rather fond of this strawberry blonde with big floppy tits and, speaking of sheer mammary mass, check out the side-on pic where you can see the heavy breast-flesh extending all the way below her arms (and, although I'm a big fan of naked breasts, I find that first tight t-shirt pic rather provocative, too!)!
My only wish for the lovely Ms. Vanderbilt is that she looked a bit happier in her videos. I know how taxing and tedious video shoots can be for a model, but Ann often seems downright disheartened at the task. It's a shame, really, as she looks so shyly seductive in her photo sets. Here's hoping that she can acclimate herself more to the video camera as time goes by, as it's a real treat to see those massive J-cup mammaries in motion. Until then, I much prefer to give you Ann at her best. And so, here's a sampling of 38J and built like a brick shithouse Ann Vanderbilt from DivineBreasts.com…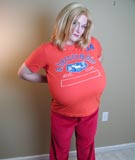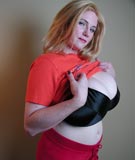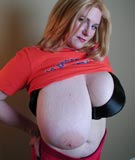 CLICK HERE TO VISIT 38J ANN VANDERBILT AT DIVINEBREASTS.COM
…finally, I thought I'd close today's blog with a couple of videos from pleasingly plump pint-sized plumper Esnia, whose own comfort with the video camera has progressed quite nicely. The fact that she's comfortable enough to casually begin masturbating in front of the videographer attests to this – and her soaking wet pussy goes a long way in providing proof that her pleasure is indeed genuine!
I do question the presence of all of that fresh fruit on the bed, however – especially when Esnia grabs hold of a banana and two oranges to erect a sort of "makeshift manhood" for herself! Odd, that…but, hey, she's having fun and I do enjoy watching her. Thus, here are two video clips of little Esnia just having a good time and pleasuring herself on the bed at DivineBreasts.com: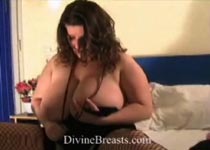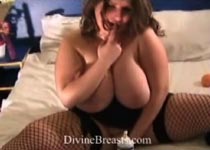 CLICK HERE TO VISIT ESNIA AT DIVINEBREASTS.COM

(webmasters)