Shortly after my Kelly Kay Remembered post, two of MyBoobSite's loyal British readers – Jack & Steve – wrote to tell me that Kelly was appearing with her mum Jane on the Channel 4 game show Deal or No Deal at that very moment. So I wandered into the living room, flipped on the telly and, sure enough, there they were.
For those of you unfamiliar, Deal or No Deal is a bizarre little show hosted by former BBC Radio 1 DJ Noel Edmonds in which contestants are faced with 22 boxes each containing a card upon which random amounts ranging from £250,000 (equivalent to about half a million US dollars) down to 1p (2 cents) are written. The "trick" is to pick the boxes with the smallest amounts so that you're left with a big prize. Every once in a while, a mysterious individual known only as "The Banker" phones up and offers the player a cash settlement to stop (that's the "deal or no deal" bit). And that's it, really – no strategy, no competition, just picking boxes. How the show has become so immensely popular, I'll never understand.
When I joined the program already in progress, Noel had just invited Kelly to the contestant's table to help coach her mum. It was a tedious 40 minutes, but worth it just to see Kelly Kay there being herself in that lovely, busty girl-next-door kind of way. In the end, despite doing terribly well in their box picking and still having the £250,000 grand prize dangling before them, Kelly and her mum decided to "deal" and walked away £50,000 richer.
About a week later, I received yet another message from Jack alerting me to the fact that Kelly and her mom Jane had posed topless together for Score (sure beats trying to imagine them naked on the telly!)! It's truly heartening to see that porn can indeed be a family business, and this isn't the first time we've had a mother-daughter combo here on MyBoobSite – the first being Ines Cudna & her mom – as well as a couple of sister shoots (most notably Ewa Sonnet with sister Julia and Iva & Eva Kleinova).
And so, continuing in the proud family porn tradition, here's busty blonde Kelly Kay and mother Jane getting their tits out and posing nude together (awww, isn't it sweet?) for the good folks at Scoreland.com: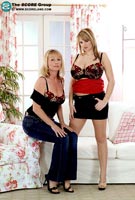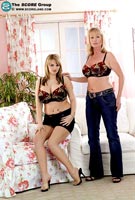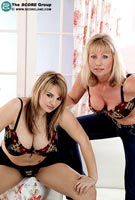 CLICK HERE TO VISIT KELLY KAY AND HER MOM JANE AT SCORELANDS.COM

(webmasters)