I realize that I was remiss in my "dream girl" blog featuring Sarah Jane Morgan's KinkyVoluptuous.com website, but it didn't dawn on me until I'd received this inquiring comment from one of MyBoobSite's regulars: Very Free wrote, "It would be nice to know what's so kinky about the site, other than it being a breast fetish site. Or is it a food fight fetish site? (I'd like to lick off some of that custard!) Or is it just a name.. (no doubt about the voluptuous part!)"
Well, VF, I do apologise for skimming over the "kinky" aspect of the site, but it's just not something that I'm into. I tend to prefer soft, comfy, cuddly sex and have never really understood the attraction of the BDSM scene, big breasts being my only real fetish. But, since you've asked the question, I feel obligated to answer: The reason for the "kinky" is that, in addition to its copious collection of curvy women, Kinky Voluptuous also has a bit of a dark side.
I deliberately hadn't visited those portions of the site prior to yesterday's blog, though, instead choosing to focus my attentions upon 38H Lexi and all of the other beautiful big boobs I'd encountered therein. However, in today's blog, I shall endeavour to correct my prior omissions by delving into the dank nether regions of Kinky Voluptuous. Or perhaps I should just let my lovely Lexi begin to illustrate the point with a few photos from her H-cup breast bondage shoot…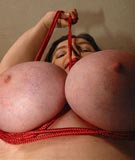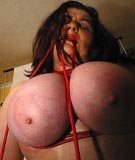 …but there's a lot more on Kinky Voluptuous besides bound breasts: Sarah Jane and her friends get up to no end of perverse pleasures on the site, including bondage, ball-gags, nipple-clips, role-play, leather, latex, food sex, fisting and extreme insertions. The latter category features everything from double-penetration with huge stainless steel dildos to champagne bottles and kitchen implements to a whole cornucopia of fresh vegetables (and, while the eggplant gets the prize for size, it's the red hot chili pepper that made me cringe the most!). And, being the insertion virgin that I am, it's also the first time I'd ever seen an inflatable dildo and its rather extreme effects upon a swollen pussy!
OK, I'll admit that I did get slightly turned on by Sarah Jane tying Sister Sam to the bed before spreading her legs for a little bit of lesbian cunnilingus, as well as the devilish look in Sam's eyes as she contemplated masturbation with that giant steely shaft. Some of the other activities were a bit much for me, though – especially seeing gentle Lexi's tender tits tied tightly with with rope whilst her nipples were pinched between chopsticks – so I think I'll just stick to the softer side of the site. Perhaps one day I'll venture into the hardcore sex section – yes, there's plenty of blowjobs, titwanks and full-on fucking, too – but, for now, here's a small taste of what makes KinkyVoluptuous.com kinky: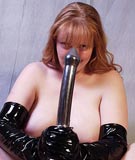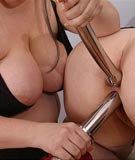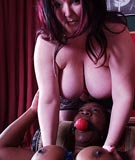 CLICK HERE TO VISIT KINKYVOLUPTUOUS.COM