Today's blog was prompted by a comment Ayrton made on my recent "Busty Merilyn Sakova joins Alicia 32JJ" blog: He'd observed, "I notice so many posts that think Anya / Merilyn and some of the other girls are too skinny. Isn't there any other guys like me that find overweight girls unattractive no matter how big the tits?"
I suppose it depends entirely upon how you define "overweight". The same would hold true for our perception of an "underweight" woman, although I must say that such a distinction only seems to be afforded to those suffering severe anorexia nervosa in the majority of today's society. It's all a matter of personal preference, imho.
In Merilyn's case, I'd personally say that she's a bit too skinny for me, preferring just a small triangle of light to show between the pubic region and where the thighs meet (which hers don't). In agreement with Ayrton, however, I wouldn't necessarily say Merilyn has a bony ass (although small, I think it's nicely-rounded).
But, despite her slight frame, I certainly wouldn't throw Merilyn out of bed. I'm thinking that it might have something to do with the 32G boobs, though, as the rest of the package just isn't "womanly" enough for me (which is odd, because I find Princessa to be a total stunner, even though she sports a similar build to Merilyn's).
With so much conflict running rampant within myself, how can I ever hope to understand the proclivities of anyone else? And what does it matter, really?! It's all about tits, here!! So, for the thin-o-philes amongst you, here are a few video clips of underweight contender Busty Merilyn Sakova getting herself off in the jacuzzi:


CLICK HERE TO VISIT BUSTY MERILYN SAKOVA AT BUSTYMERILYN.COM
Now, when it comes to "overweight", I guess my definition would be a woman of average height who weighs in excess of 14st (just under 200lbs). Anything less is just pleasingly plump to me, occasionally earning me the title of "chubby-chaser". Of course, there have to be large breasts to balance out the overall body shape.
While plumpers like BBW Xtasy fall right up at the top of my range, I'd be hard pressed to choose if both she and Princessa were standing naked in front of me for the taking. The obvious choice would be to take them both, but I fear the delicate looking Princessa might break in the proceedings. Score one for women of substance. ;~)
Another good example of chubby, but someone I'd not consider overweight, is 44G Sophie from Kinky Voluptuous. She's a big woman, to be sure, but I feel her physical features are fairly balanced in overall proportion. Besides, she's a blonde with big G-cup tits! And, uncharacteristically for me, I think she has a rather nice ass, too: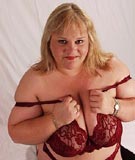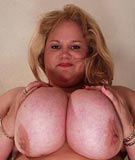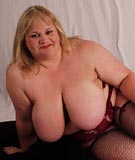 CLICK HERE TO VISIT SOPHIE AT KINKYVOLUPTUOUS.COM
Which brings me at last to what I consider to be "regular-sized" women; the not-too-skinny, not-too-fat median range that seems to beset females of a certain age (typically in the 30s) or after childbirth. Be thee warned, skinny-seekers, as a lot of the ladies you worship now may well fall into this category a decade or so down the road!
As for me, although I thoroughly enjoy pumping plumpers like Sophie every now and again and wouldn't say no to skinny chicks like Merilyn, it's these "average" women that I find to be the greatest turn-on of all. With just enough curves to be comfortable, it's this last classification of women with whom I'd want to settle in for the long haul.
Not surprisingly, a lot of the ladies I feature on MyBoobSite seem to fit squarely into this category: Maria Moore & Heather Michaels are prime examples, Samantha Anderson (since she lost the weight from her early days in porn) & Alicia (even though she tends to hide her slightly-pudgy belly), Davina and even my very own Vix!
But who better to illustrate the wonder that is regular-sized women than Busty Brits' Imogen? Ever since I first encountered her late in the last century, this blonde beauty with all-natural 38GG boobs has epitomized my personal ideal of a "real woman":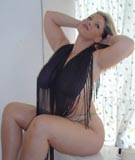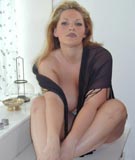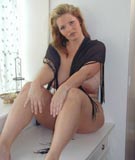 CLICK HERE TO VISIT IMOGEN AT BUSTYBRITS.COM