Hmmm. It strikes me that I haven't blogged Busty Merilyn in quite a while. Truth be told, of our teen trio of G-cup goddesses, I've been far more taken with Jana Defi (aka Princessa / Maria Swan) as of late. She even visited me in my dreams the other night:
In this particular dream, Vix & I were at a party with some friends. Vix had wandered off to chat with another couple whilst I sat alone in a big, comfy chair. Behind me, I could overhear a conversation between my friend Steph and an unknown female with an Eastern European accent. Suddenly, and quite uncharacteristically, Steph shouted, "Get away from me! You stink!" I turned around to discover that the recipient of Steph's insulting barb was none other than Jana Defi!
With a pouty look on her face, the dejected Czech began walking in my direction. She was stunning, elegant as ever with her pendulous 32G breasts dangling just enough below the stylish crop-top she was wearing to allow me a glimpse of her nipples. She stopped just past my chair, then turned to face me. "You don't think I smell, do you?" asked Jana, still pouting, as she snuggled down into my lap sideways with her legs draped off the arm of the chair.
"I don't know. I'll have to check," I replied with a wry grin. And, with that, Jana reached one of her tiny hands behind my neck and drew my face close to hers. I tilted my head slightly and our lips locked together, our tongues commencing an elaborate, sensual dance that would last 5 minutes. Our oral embrace broken, Jana touched her forehead to mine and looked into my eyes questioningly. "Nope. Didn't smell a thing," I concluded. She just smiled, gave me a hug and was off.
[See?! I told you I've been having some interesting dreams lately!! Totally unrealistic, too, as I can't believe Steph would've said something like that! But that's beside the point…we were talking about Merilyn, here, weren't we? This blogging business wouldn't be half the battle if I didn't get so easily distracted by my subject matter! :~P]
Anyway, I've just found this excellent gallery from BustyMerilyn.com with Merilyn in a see-though catsuit (I'm a big fan of semi-transparent clothing, as evidenced by my recent "Maria Moore Clothed" blog). Not to worry, though, as she doesn't keep her 32G boobs in the catsuit for very long. However, there are two things that came as a bit of a shock to me…
1) Merilyn's smoking! Obviously, a bad habit she's picked up from that hooligan Faith.
…and even more surprising…
2) Merilyn's smiling! Yes, that's right: There are two photos in the series within which she not only closes her mouth (something I've complained about before), but she actually cracks a smile! Blimey!
…don't believe me (and I know it's hard to)? Then see for yourself: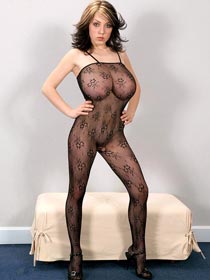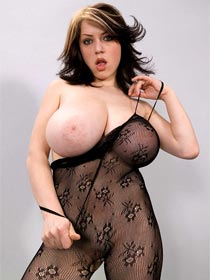 CLICK HERE TO VISIT MERILYN'S WEBSITE