I've been rather fond of Chessie Moore and her 44H boobs as long as I can remember. For me, she was sort of a dream-girl, the consummate big boobed slut queen, getting into anything and everything. However, 'round about the turn of the millennium, she seemed to totally disappear from the scene, leaving me merely with my fond mammary memories. Thus, I was thrilled to pieces when I recently learned that she'd still been shooting photos & videos over the past few years and was in the process of launching an all-new website: ChessieXXX.com!
Somewhat shockingly, I first encountered Chessie (or someone that looked remarkably like her, at least) in an underground bestiality video wherein she was engaging in all manner of sexual antics with a rather large and well-endowed dog (no, I don't have a copy of the video and, no, I'd never post anything like that here on MyBoobSite)! After I'd found more, albeit softer-core Chessie photos on the 'net, I was sure it had been her in the video I'd seen. When confronted directly with the question of her participation in said video, Chessie had the following to say about it…
"Yep it's me, you can usually tell by the tattoo on my shoulder. I did the tapes for a Euorpean company, but since then that same material has been pirated like mad. If it offends you then don't let anyone to force you to look at it. Also if my 4 legged co-stars could talk I'm sure they'd let you know they had a great time. BTW this material is legal in alot of countries and not considered any more shocking than any other form of porn. Here in the good ole USA there's alot of sex acts that are still illegal, even if they are considered everyday routines to some. So to stay within the law since my ISP's are both US companies I don't post any illegal material on them."
…so there you have it, straight from the horses mouth (as it were)! ;~P But, despite the fact that dogs still like her, our Chessie gets into a lot more than just sex with animals. Since losing her virginity at the tender age of 13, she's truly done it all (even though she cites the missionary position as being her favourite). She's quite outspoken when it comes to describing the joys of a good titfuck, loving the stimulation to her breasts and nipples as well as the visual stimulus of seeing a cock swell and spurt up-close and personal (which could be why she likes blowjobs so much as well!). Never the greedy girl, Chessie's always more than happy to share a cock with a good friend, and has even been known to go veggie from time to time! Oh, and did I mention that dogs like her?
But, before I break into a spontaneous and possibly ill-advised rendition of "Puppy Love", I'd like to address a more serious topic; the veracity of Mrs. Moore's H-cup endowments. When faced with the query of whether or not they're really hers, Chessie typically replies, "You better believe it! I bought and paid for them myself!" Having been relatively boobless and lopsided as a young lass, Chessie opted for breast enlargement surgery. It was something that she wanted to do for herself, and I say more power to her (she certainly seems to enjoy them, too)!
Now, if you've been following MyBoobSite from the beginning, you'll know that I have nothing against surgically enhanced breasts. In fact, there have been some instances in my "practical experience" when I've preferred fake ones over a real, all-natural set, and others when I've truly been unable to tell the difference…even by feel! Apologies to you tits purists, but I won't discriminate against anyone who's had a helping hand in achieving a truly impressive rack, as long as it's their own decision and something they're doing for themselves.
Anyway, back to Chessie Moore (and I solemnly promise not to mention her canine companions again in this blog): I'm just so happy that she's decided to go ahead with a new website! The site launches this week with plenty of new and vintage photos…and the videos are soon to follow (keep checking the links on her updates page to see the latest additions). I, for one, implicitly trust Chessie to take matters well in hand, providing the sort of content that Chess-o-philes like myself have been longing for, and can't wait to see what surprises she's got in store for us next! In the meantime, here's a sneak preview of what you'll find on ChessieXXX.com: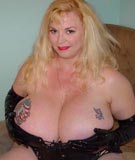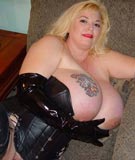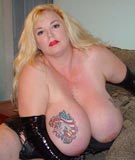 CLICK HERE TO VISIT CHESSIE MOORE AT CHESSIEXXX.COM
(webmasters)