It was my first XX-Cel blog in which I'd initially taken notice of the bundle of big-boobed blondeness known as Davina 32J. She grew on me moreso than any of Cel's other models, leading me to devote entire blogs to this beautiful busty Brit. Some time later, I'd discovered that 29-year-old Davina had been downsized by Busty Britain to a 34FF, but I loved her just the same.
However, it wasn't until my One Fallen Angel webcam blog that I'd begun seriously perusing TopHeavyAmateurs2 (upon which Anna appears as Tina 32FF). Therein I found several other familiar faces, many of them sporting similar pseudonyms. Although my natural inclination toward blondes with big tits had me instantly attracted to "Rachel" – identified on the site as a 22-year-old schoolteacher with 32G breasts – I didn't realise who she really was until I took a look at her galleries.
Indeed, it was Davina! How could I not have recognised her?! Perhaps it was her new hairstyle that had me confused, or the fact that she looked younger in these photos and seemed to have gotten a little sun to tan her formerly milky-white complexion. Nonetheless, as I delved deeper and deeper into her alter ego of Rachel 32G, I knew beyond doubt that this was Davina.
In choosing the photos to feature in today's blog, I decided to select from the series within which Rachel became definitively Davina for me (it was specifically in the 7th photo below, the perfectly pendulous big breasts and unmistakable pouty expression being the giveaways). When she gets around to spreading her pussy in this series, though, I was glad to see she switched hands, as that seriously chipped nail on her left index finger could've caused no end of discomfort!
Thus, here's Rachel 32G – née Davina – from TopHeavyAmateurs2.com…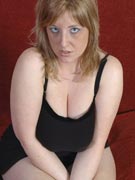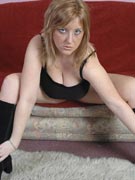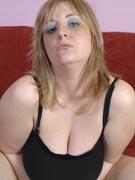 CLICK HERE TO VISIT RACHEL 32G AT TOPHEAVYAMATEURS2.COM
…since we're on the topic of THA2 at the moment, and accepting that busty British blondes might not necessarily be your particular cup of tea, I thought I'd drag along some of the other lovelies from the site for the sake of variety. You'll no doubt recognise 36GG Kerrie Marie (as she's been here before), but the other girls – Treena 32FF, Charli 32EE, Liz 32EE, Sheena 32F & Stefi 34FF – are all new faces to me (and, curiously, all but one appear to share the same band size). And so, a small selection from amongst THA's overflow of big boobs models at TopHeavyAmateurs2.com: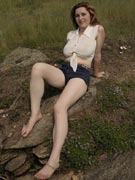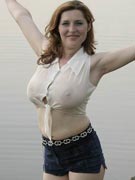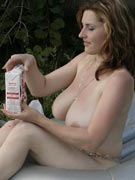 CLICK HERE TO VISIT TOPHEAVYAMATEURS2.COM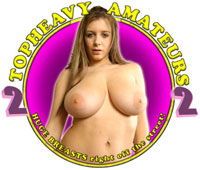 [Don't forget, you can sign up to both TopHeavyAmateurs sites for just $10 more than
the regular $24.97 monthly subscription rate for one of them and get a 30% savings!]