Skipping sprightly past the loose lyrical Billy Joel reference in the title of today's blog (the song to which it refers being one of my favourites of his, next to Captain Jack and perhaps Summer Highland Falls), I'll get right to the business at hand:
In my last blog, I expressed my sincere remorse for overlooking e-mail from lovely 38G Voluptuous covergirl Jelena (for which you have all appropriately chastised me in your comments). There was one particular response that I was waiting for with bated breath which, when it arrived, truly warmed the cockles of my heart…
~ Hey Reese ~ No need to be sorry honey, I realize how busy you're having so popular website – you're doing an awesome job :-)
Thanks for posting those nice photos. Any chance you have access to THA? I'd love to sneak a peak at my pics in there hehe
Well keep up good work!

XoXoX
J
…thanks so much, Jelena, for your kind words and understanding. I do feel better now. I can't believe that you've not seen your most recent series from THA, though! Don't you get a proof set when you do a photo shoot like that?! :~?
By "THA", of course, Jelena means Top Heavy Amateurs, the megasite so chock full of mammary goodness that they had to create THA2: The Sequel. It's also the home of one of my favourite underexposed big tits plumpers Julie 34HH. Now that Jelena has joined their ranks, I have even more of an excuse to revisit the site more frequently!
Oh, and in answer to your question, Jelena, regarding whether or not I have access to THA, indeed I do! And your latest shoot there, which BreastFinder has aptly entitled "Supersize Tits", is nothing short of exceptional – from the alluring tease of your down-blouse photos to the sheer eroticism of the dildo protruding from your cascading cleavage, each and every shot does genuine justice to your truly magnificent breasts.
There is one particular photo, however, that I found most entertaining – the lucky 13th one below where you press the base of the dildo against your crotch and simulate stroking said prosthetic penis in a most provocative manner. Please don't take offence (as you're far too beautiful and feminine to ever be mistaken for such), but are you surreptitiously trying to steal market share from hard-working transsexual models?! I know there are some curious to see what it would be like to have tits and a cock in one package – so much so that I've oft contemplated starting a busty TS blog – but that photo just takes the cake! :~D
All kidding aside, reaffirming the fact that you're 100% all woman in every voluptuous essence of the word and still finding it incomprehensible that I'm the very first to show you these, here's a sampling of your latest series from TopHeavyAmateurs.com…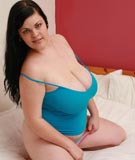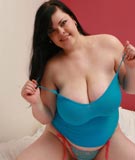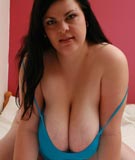 CLICK HERE TO VISIT G-CUP JELENA AT TOPHEAVYAMATEURS.COM

…hey guys & gals: Don't forget that you can also chat with Jelena live, up-close & personal on webcam at ImLive.com, affording the rare opportunity to enjoy what this stunning, sensual, witty, charming, friendly, warm & lovely young lady has going on inside as well as out!! ;~)
CLICK HERE TO CHAT LIVE WITH JELENA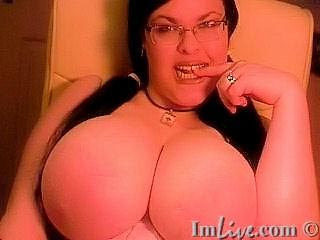 (more big boobs from imlive.com)