The fantasy of the sexy secretary has to be one of the most overwrought clichés in the porn industry. However, when I typed the word "secretary" into the search box here on MyBoobSite, I came up with zero results! How could I have neglected this? How many Google searches have passed me by because of this irresponsible oversight?! I dread to think.
In an effort to rectify this rather serious omission, I turned to busty blonde G-cup goddess Faith Nelson from InBedWithFaith to provide a suitable example. But, although our Faith is indeed sexy in her secretary persona, I do have to question her genuine suitability for the position. For one, if you look at her computer monitor, it's quite obvious that she's browsing porn (which, as far as I know, is a workplace no-no). Then again, masturbating at work – as Faith not-so-slyly commences in the last two photos below – is probably a sackable offense as well (unless you do it on International "Have a Wank at Work Day" or perhaps for a registered charity).
Nonetheless, I can't dispute that Ms. Nelson does fulfill the fantasy of a sexy secretary quite adequately and, despite my managerial misgivings, I'd no doubt hire her in an instant (besides, who am I to slate someone for browsing porn at work? after all, it's my job!). Here's a small sampling of 32G sexy secretary Faith Nelson from InBedWithFaith.com:
.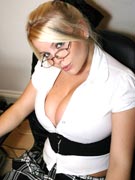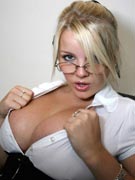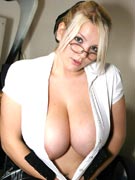 CLICK HERE TO VISIT 32G FAITH NELSON FROM INBEDWITHFAITH.COM

(webmasters)