Okay, so perhaps it's not so much a scandal as a mere curiosity, but I was perusing hardcore porn galleries the other day and came across one in which 36JJ Denise Davies didn't seem to truly embrace the essence of "hardcore" at all! At best, I'd call this one a "simulated-sex" session, wherein no actual penetration takes place: Although bold enough to probe her partner's penis with her tongue, there's no blowjob. The doggy-style shot is a no-brainer, as his cock could be anywhere. Lastly, the full-penetration pic appears to be nothing more than penile insertion into Denise's hand! I don't know, I could be totally wrong on this, but here's the evidence as I see it…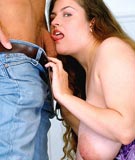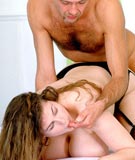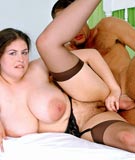 …that's not to say there isn't plenty of actual fucking going on at XLGirls, just that Denise isn't one of the XL girls doing it (or so it would seem)!
However, if we take a jolly jaunt across the pond to Busty Britain, the fucking is indeed genuine where Denise Davies is concerned, and she does it all: Licking her JJ-cup tits whilst her partner sucks her nipple and deftly slides a digit into her pussy. Tonguing and rubbing his uncircumcised cock to erection on her saucer-sized areolas after taking his man-meat into her mouth for a legitimate blowjob. Having him go down on her for a bit of lubricating cunnilingus before sitting on his cock for some full-penetration fucking as he reaches around to cup one of her big tits in each hand. And, finally, taking his cum on her tits and letting it dribble down her cleavage as an apt conclusion to this genuine hardcore session (but the way she's still fingering her pussy in that last shot leads me to suspect she's not quite finished!).
Despite this gallery being an epitome of big boobs hardcore porn for me (although a nice titfuck wouldn't have gone amiss), it still left one lingering question in my mind: What's with the TW pendant on her necklace?! Apart from perhaps being a shout-out to that mysterious busty babe who stormed the internet in the late-'90s and is now the topic of contentious speculation, I haven't a clue. Is Denise Davies trying to tell us something??
All speculation aside, here are a few photos of Denise Davies fucking for real, courtesy of the wonderful BustyBritain.com…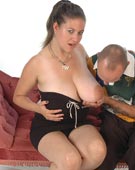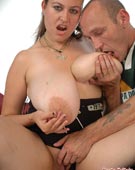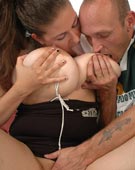 …as for today's selection of videos, not only am I feeling particularly lazy, but I also need to get ready to head off on a typical British "dirty weekend" and haven't even begun packing! Thus, I shall once again bow to BustyBritain for their kind provision of hosted hardcore video galleries with which to flesh out today's blog, starting and ending, most appropriately, with the ever-horny Denise Davies (oh, and we do get that nice titfuck this time, too!):
CLICK HERE TO VISIT BUSTYBRITAIN.COM

(webmasters)