My wife, Vix, had to travel out of the country on business the other day, leaving me home all alone. :~( Well, I've mentioned before that the wife & I are swingers, and one of the great things about our swinging community is that, when one's partner is away, there are a host of "angels" who stand at the ready to tend to them during their other half's absence. My designated angel this time was a lovely young lady who'd kindly volunteered to fulfill my every need and desire whilst Vix was away. She went on to describe her proposed humanitarian visit in detail:
"I want you to relax in hot bath while I pour you a drink. Then, I want you to go rest in bed (must be naked). I hope nakedness is ok for you. *lol* I will prepare my own special blend of Reese-oil, for me, your angel, to spoil and caress you. And I will give you a very special massage…"
Without going into all of the sordid specifics, I think you get the general idea. Sadly, however, I had to stop her at the first sentence. You see, my house has a rather antiquated bath room with an uncomfortably-small tub. Not only that, but the water pressure here is so low that it'd take hours to fill, despite it's miniscule size. Having to forego the exquisite pleasure of a bath, I am relegated to purely-utilitarian showers. Thus, I had to decline my angel's heavenly offer. [Eh, besides, the fact that Vix & I don't "play away" from each other would've made it a no-go anyway.]
Oh, if only I had a bath like Eden Mor's. That's right, in addition to lusting after her magnificent 80HH breasts, I also now find myself coveting her wondrous Jacuzzi tub! I mean, it's so massive, I think we could have a full-blown orgy in there! Of course, I'm including Eden in that thought as well. ;~) Even though we'd already established that Eden's boobs displace approximately four litres of water each, I'm sure there'd be plenty of room: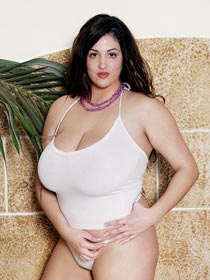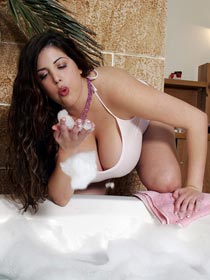 Come to think of it, I can't believe it's been so long since I'd last blogged my favourite non-blonde! Because I feel so remiss over this, I've decided to include a video clip of the bathing Eden in this post as well. Enjoy!
CLICK HERE TO VISIT EDEN'S WEBSITE