Why do Brits dislike redheads? Derisively referred to as "gingers" here (with both Gs pronounced hard), these poor folk have been the butt of jokes and discrimination tantamount to racism. It's got so bad that there's even an activist group called Readheads United here who believe those who share their genetic predisposition "should be recognised as a minority group in the UK in the same way as ethnic and religious minorities." Truly, the issue has reached epic proportions.
Personally, I've never had a problem with our ginger brothers and sisters. In fact, I'd always harboured a secret appreciation for them in high school, as it was the redheaded girls who always seemed to have the largest breasts! The only thing I could ever dream of holding against them was my face (or certain other parts of my anatomy) in the general region of their cleavage. But even the fact that I was never allowed to do so is no reason to discriminate against them, is it?
In order to ease the racial tension a bit, I'd like to present the stunning Maggie Green from PinupFiles.com. A natural readhead, Maggie always says that she never thinks her boobs are that big "until I see the photos and then I'm like, DAMN, my boobs are huge!" They're a 36F, to be precise. Thing is, Maggie moved to Southern California from her home in Michigan a few years ago, and all that time in the California sun is turning her into – yes, you guessed it – a blonde! Check out the last photo…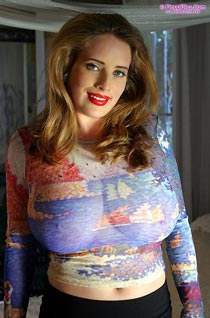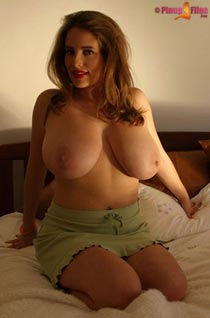 …you can see more of Maggie and other busty babes, brought to you by the letters DD through HH, at PinupFiles.com.
CLICK HERE TO VISIT MAGGIE'S WEBSITE