Last week, I introduced you to generously-endowed Israeli newcomer, Eden Mor, promising that you'd see more of her on My Boob Site as time went on. Well, the time has come! I know, I know – it's only been a week – but I just couldn't resist her ample charms. At an HH-cup, she has some of the most impressive boobage I've ever laid eyes on…not that I haven't thought about laying some other things on them as well. ;~) Apparently, she inherited the "big boob gene" from her grandmother. Her breasts began growing to their prodigious proportions at the tender age of 13 and haven't stopped yet (Eden's 20-years-old now). In fact, her website reports that they currently weigh a whopping 7.3kg (16lbs)!
This got me pondering, "However did she weigh them?!" The only reliable method I could think of involved water displacement: Just get a suitably-large graduated beaker, fill it with water, then dangle one boob into it…thus displacing the volume of water equivalent to that of the breast. Because breasts are composed primarily of fat, and because fat has a lower density than water (i.e. weighing less volume-for-volume), you'd have to multiply your result in liters by a density factor of 0.9 to arrive at an accurate weight in kilograms. Thus, working backwards, Eden's boobs should displace approximately 4 liters (just over a gallon) of water each! [Note to self: Find supplier of very large breakers to test theory.]
In any case, and as promised, yet more of the awe-inspiring Eden Mor…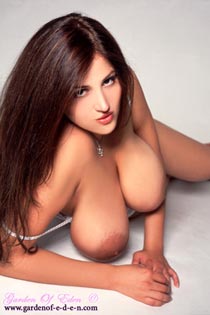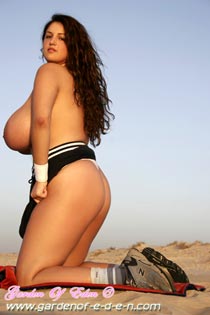 …there's plenty more where these came from, including some rather hot solo and girl-girl videos – and, at just $13.95 for a month's membership, it's one of the biggest boobie bargains on the 'net!
CLICK HERE TO VISIT EDEN'S WEBSITE