What a wonderful weekend it's been! My wife, Vix, recently celebrated her 36th birthday (quite the auspicious occasion, as it's the first time her age and gender match her bra size!), so I decided to treat her to a mini-holiday in one of our favourite places – Amsterdam – the sex tourism capitol of Europe. Apart from perusing the plentiful porn emporia and window shopping for the biggest breasts in their infamous Red Light District, Vix also took time out to sample some of Amsterdam's finest, courtesy of their countless cannabis cafés (see photo below).
When we arrived home, I was thrilled to find an e-mail from the host of popular porno podcast "Howard Brown Live", thanking me for blogging his interview with Sexy Samantha 38G last week and saying that he'd give MyBoobSite a mention on tonight's show! But that's not the only reason I'm excited, as tonight's guest is none other than one of my latest favourite hardcore porn legends, Lynn LeMay! The show is being broadcast at 11pm Eastern Standard Time, so be sure to give it a listen.
To hear the live show, you just need a copy of Apple's iTunes on your computer. Then click the "Podcasts" link in the left-hand column, type "Howard Brown" in the Search All Podcasts box, and then hit the Subscribe button when it comes up in the search. If you already have iTunes, you can just click here to access Howard's section there, which also hosts an archive of past shows. There's also a complete archive of past shows available in MP3 format on his site.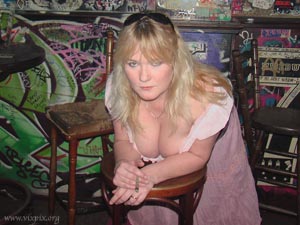 Vix enjoying some of Amsterdam's finest…it's OK, though,
as she has sound medical reasons for doing so. ;~)
CLICK HERE TO VISIT HOWARDBROWNLIVE.COM