I can think of few things more annoying than that sodding paperclip that pops up in Microsoft Word every time I try to write a letter (even though I'm a dyed-in-the-wool Mac user, I had to buy a copy of MS Office just to remain compatible with my less-fortunate PC-based colleagues). Its bug eyes and bendy body just send me over the edge every time, causing me to forget what I was supposed to be writing in the first place. What's more, it's rarely provides any relevant help. Perhaps I'd feel differently, however, if it had breasts.
Well, hope may well be upon us – or, more accurately, Faith – as a recent visitor to MyBoobSite pointed out that there's a new site featuring a bevy of big boobs designed to frolic on your desktop. VirtualGirls is rather unique in that, rather than just providing photos or videos, you can download dozens of animated busty babes who will perform a personal striptease for you right above your taskbar! Isn't technology wonderful?
Among these monitor mates is our gorgeous G-cup goddess Faith Nelson from InBedWithFaith.com, who reveals far more than ever before as your seductive screen pal. She's even available as a sexy animated screensaver – or "StripSaver", as they like to call it – filling your display with her 32G tits whenever your computer is idle. Trouble is, I find myself more and more mesmerized by the figure of Faith lingering there, fondling her breasts and teasing me with the occasional pussy flash. Sheesh…however can I hope to get any work done now?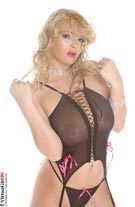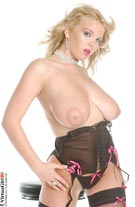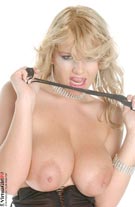 CLICK HERE TO VISIT FAITH AT VIRTUALGIRL2.COM
(webmasters)