For nearly as long as I've been blogging, I've listened to both sides of the debate as to whether Jana Defi (aka Princessa / Maria Swan) had breast implants. I guess it just seemed to good to be true that this beautiful, svelte Czech-Italian could sport such impressive 32G boobs on her otherwise slender frame. I must apologise to those who have, in the past, asked my own opinion on the matter and not received a reply, instead sitting back and watching quietly as the controversy raged on.
You see, in the early days of MyBoobSite, I had a bit of a debacle with Jana's modelling representative over some unauthorised photos and video footage I'd featured here. However, when he discovered that I'd done this with the best intentions and was eager to comply with Jana's wishes, we became good friends. So, ever since, I've had a bit of an "inside track" on the progress of the debate. At one point, we were even joking about taking X-rays to put the matter to rest once and for all!
Then, the proverbial shit hit the fan when a site called "Men Against Fake Boobs" posted what they considered to be damning evidence from a "Dr. Dallas" who "confirmed" their suspicions that Jana had implants. They used the following thumbnail from one of Jana's videos as Princessa at MC-Nudes as "Exhibit A"…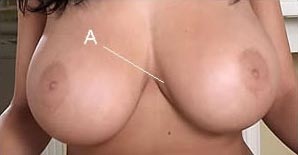 …wherein their "consulting doctor" cited the apparent fold between her left breast and the chest wall as proof, and then went on consider some irregularities around her nipples as an indication of breast augmentation surgery. This prompted a dramatic response from one of the other sites upon which Jana regularly appears: PinUpFiles.com.
Now, personally, I don't care if a beautiful pair of big breasts are real or fake (in fact, there are some breast-centric activities wherein a bit of surgical enhancement often proves to be a bonus). However, I also realise that a lot of you don't feel the same as I do, instead insisting that your breasts remain 100% natural. Thus, when I came back from my vacation to find that four separate people – including webmaster David Jackson from PinUpFiles – had mentioned the rebuttal against MAFB, I decided it would best serve our boob loving community to feature this story as front-page news.
In their efforts to quell the dissenters, PinUpFiles' sister site, PinUpGlam, enlisted the expertise of Beverly Hills plastic surgeon Dr. Vishal Kapoor for a hands-on medical examination of Jana's G-cup assets. After thoroughly examining her nipples, areolas, breasts, armpits and navel, Dr. Kapoor could find no scars indicative of implant insertion. Then, as a coup de grace, a sonogram machine was employed to show, beyond the shadow of a doubt, that all of the tissue filling Jana's exceptional endowments was indeed hers.
Of course, the entire examination was captured on video (as hosted by the stunning 36F Maggie Green, my 2nd favourite former redhead), and is now featured on their PinUpGlam.com website: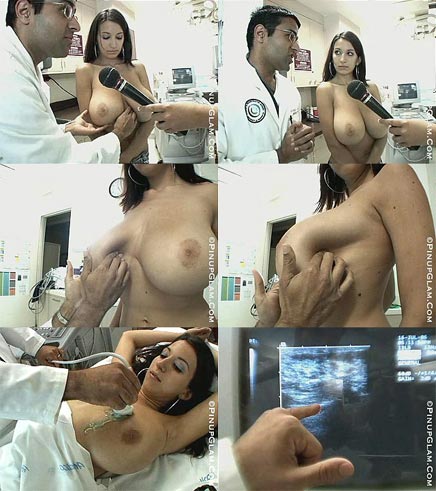 CLICK HERE TO READ THE ENTIRE STORY