I do so look forward to my occasional e-mails from Silky over at JuggMaster because, more often than not, they arrive with a few photo attachments taken from the site (my open plea obviously worked!). Then, after I've accumulated a dozen or so of these dilectable dairy delights hailing from JuggsVille, USA – the land of milk and boobies – I post them here for the rest of you to enjoy!
Her last few correspondences have proven no exception, treating me to glimpses of such lovelies as the voluptuous 36E Cara, perennial favourite 36GG Maria Moore (it's nice to see Maria's wearing a bigger bra size now, as the former 34FF was giving her a bit of a bulging quadra-boobs complex), the occasionally-hardcore 36F Kiki, and JuggMaster's own incomparable anonymous milk-maiden JuggMistress with her enormous 38K endowments…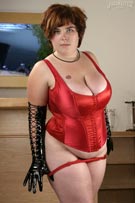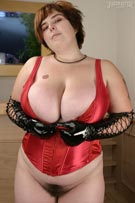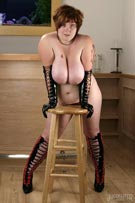 …is that last one – 38K JuggMistress – actually JuggMaster's missus?! If so…the lucky, lucky bastard!! She started out as a mere 38E going into her first pregnancy, and ended up ballooning to a massive 38J! But, as if that wasn't enough, her milk-laden mammaries have continued to grow to the extent that it now requires a K-cup bra to contain them!!
Sure, the photos are breathtaking, but I wanted to see those mammoth milkers in action! To that end, I found the following reduced-size preview trailer from her DVD (video clips in the members area are 352×240 resolution). It's amazing to see JuggMistress lactating without exogenous stimulus, the milk apparently being brought down by the sheer weight of her breasts (it certainly gives our milking Maxi some serious competition!)!
Oh, and I believe this is also the first time I've ever featured breast-pump video action on MyBoobSite! While I do understand the utility of such automated tit-sucking apparatus, I'd much prefer just to use my lips…which gets me inevitably and inventively thinking that there's got to be a way to construct some sort of prophylactic oral insert to collect the breast-milk using one's mouth and keep it sterile in such a situation! Hmmm.
Anyway, I digress. So before I before I venture off the the drawing board to sketch out my mouth-powered mammary milker idea, here's a clip from JuggMistress' lactation video from JuggMaster.com…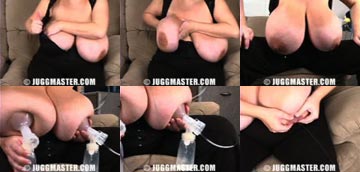 …but, before I go, there's one woman from Silky's selections who piqued my curiosity the most; a buxom blonde girl identified only as JuggMaster's Mega-Mammed Mystery Model (cool, another person who likes their adjectives to start with the same letter as that which they're referring to). The reason this one intrigued me the most is that she reminded me vaguely of our lovely Wanessa Lilio! Is it? Could it be?! Without seeing her face, there's no way to really tell for sure. Still, take a gander at the following pics and see if you get the resemblance between our Wanessa this new mysterious milk-maiden from Juggmaster.com: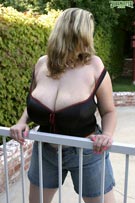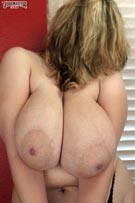 CLICK HERE TO VISIT JUGGMASTER.COM