You know how there are just some models that you wish would do XXX hardcore porn? To see what it's like to get a titfuck from Eden Mor, a blowjob from Faith Nelson – which, incidentally, is her #1 request from fans – to have Merilyn Sakova bouncing on top or Jana Defi doing, well, just about anything?! Some of these, like Faith, seem light years away from fulfilling such fantasies; but, with others, there is hope…
Case in point: I'd long dreamed of Leah-Jayne and her 38HH boobs in overtly sexual situations. At that time, I'd only seen her solo softcore photo sets for BustyBrits. Still, I knew she had great potential, as proven by this video I found shortly thereafter. However, it wasn't until she'd done a modelling session for my mate Cel that I was confident she'd finally take the plunge. It was some of her sexiest work to date, and she even let Cel fondle and suck her HH-cup tits on video for his XX-Cel website!
Then, just yesterday, I received an e-mail from my friend Dave in which he described a site called Busty Britain which supposedly had videos of Leah-Jayne "getting a good seeing to"! That was it – I had to check it out – and, to my amazement, it was all true!! I immediately e-mailed their webmaster asking for videos to feature on MyBoobSite. He replied within minutes with a set of video clips, and then asked me if I'd like to see some of the photos they'd done with Leah-Jayne as well!
Indeed, my dream had at long last become a reality, and so I'm proud to present a gallery of the lovely Leah-Jayne's first hardcore photo shoot for BustyBritain.com…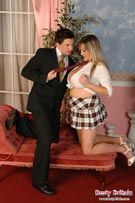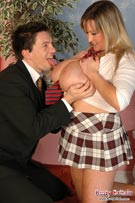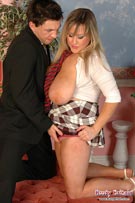 …but it's the videos I'd been waiting for – to see Leah-Jayne having sex in front of the camera for the very first time – courtesy of BustyBritain.com:



(note: actual videos downloadable from the site are 2,000kbps 640×480 resolution)
CLICK HERE TO VISIT LEAH-JAYNE AT BUSTYBRITAIN.COM
(webmasters)