I've been chatting with the webmaster of XX-Cel.com over the past week, and I dare say I've discovered someone with more of a big breast fetish than even myself! Working from his home base in Paris, Cel has been assembling the best busty babes from the world over – women like 36FF Joanna, 34G Lorna Morgan & 34HH Leah-Jayne, to name just a few – and the results are truly XX-ceptional. What's more, he genuinely listens to his site members, allowing them to request special poses, submit ideas for videos and even recommend guest models for the site!
Where Cel really outshines the others, though, is in his experimental nature. As the mad scientist of big boob-dom, he's developed such techniques as the 4×4 shot, allowing us to enjoy a model from all angles, and the infamous Inspecta-Cam™. For the latter, imagine a sort of "lunar rover" for breasts, probing their fleshy surface and examining every last detail of their form and movement, for a topographical study of tit-space from the summit of the nipples down through the canyon of the cleavage in macroscopic splendour. Indeed, the only thing missing is an insightful narrative voiceover by Sir David Attenborough.
For the less adventuresome, who could care less whether or not there's intelligent life on tits, the site offers plenty of more conventional fare. Although many of the models have appeared on other websites, Cel seems to be able to draw them out of themselves and capture them at their sexiest. A good example of this is Leah-Jayne, whom I've blogged before, but who's always seemed a bit "severe" in her photo sessions for other sites. On XX-Cel.com, however, she demonstrates a softness and sensuality that I've not seen in her before (she even *gasp* smiles!).
Whatever he's doing, he's definitely got a winning formula there. I'm sure I'll be blogging Cel's site incessantly in the future (especially with new faces like 32J Davina, who I feel deserves a blog of her very own), but, until then, here's a small yet succulent sampling of what you'll find therein…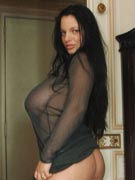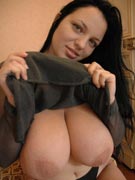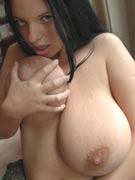 …and lest we forget the breastacular Inspecta-Cam™, here's a comparative study of two bountiful boob-scapes – contrasting those of 32J Davina with 34HH Leah-Jayne – purely in the interest of science, of course (bearing in mind that, unlike my quarter-sized sample video clips, the movies available for download on XX-Cel.com are a full 640×480 in resolution):



CLICK HERE TO VISIT XX-CEL.COM