Latest big boob sensation Merilyn seemed the obvious choice as cover girl for the September 2005 issue of SCORE Magazine. Regarding their latest find, SCORE said: "Featured in a seven page spread, she acheived instant fame among breast-men eager for a new flavor. SCORE's editor called Merilyn 'The Discovery of the Decade'. Many readers agreed."
When I first began writing this entry, I was filled with enthusiasm that another as-yet-unknown busty babe had bounced her way into the limelight…that is, until I took a closer look: While I must admit that SCORE's "discovery" is a stunning big-boobed beauty, has anyone noticed that Merilyn is none other than our already-beloved Anya?!
Oh well, it did seem too good to be true, didn't it? At least she's got her own personal website now, and we can look forward to seeing a lot more of the gorgeous G-cup Anya / Merilyn in the future!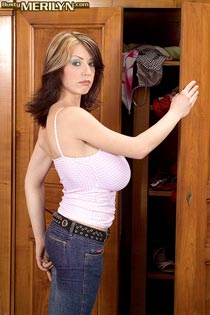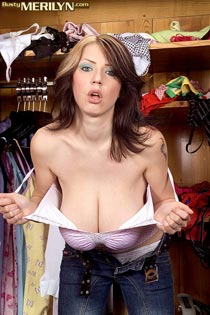 CLICK HERE TO VISIT MERILYN'S NEW WEBSITE