As it's been months since I last blogged Maxi 32JJ and her perfectly pendulous JJ-cup juggs, I figured it was high-time to revisit her – especially since it's been unseasonably warm here in England and the fertility rites of Spring are in the air (and let's face it, even though she's no longer pregnant, I don't think anyone I've ever featured here represents the fertility goddess form of natural womanhood better than our Maxi).
Although I'd intended to focus this blog wholly upon Maxi's shower series, I found so many blogworthy new additions when I visited her Maxi32JJ site this morning that I just couldn't resist providing a more diverse sampling of a few of my favourites from her latest shoots. Thus, I decided that you all probably wouldn't mind a little Maxi potpourri.
The first new photos to catch my eye were of Maxi lounging in her bed wearing ultra-sheer see-though white lingerie (which, next to naked breasts, I find most alluringly sexy). I found several shots in this series quite the rare treat as you can even catch a glimpse of Maxi's post-partum pussy through the sheer fabric of her white lace panties (just check out this full-resolution sample)! Here's more from Maxi32JJ.com…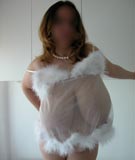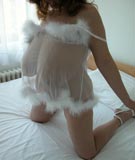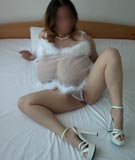 …the next series I chose solely on the strength of the first clothed shot below, giving perspective to the sheer mass of Maxi's massive milk-filled tits beneath a tight (for her huge boobs, at least) silk shirt. As Maxi unbuttons her shirt in a slow striptease, we get to witness her nipples hanging down nearly to her navel! The pantyhose are the next to go and we're finally faced with a nearly-nude Maxi (nearly, as she keeps her boots on the entire shoot). Here are a few photos of Maxi stripping courtesy of Maxi32JJ.com…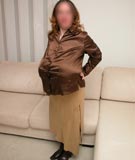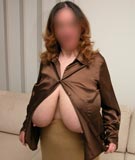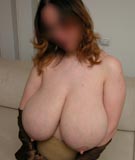 …finally, true to my intention, we have Maxi in the shower. Fortunately, it's not long before she loses that distracting fluorescent orange bikini top with green polka-dots to reveal those monster milking mammaries in all their glory. After a generous selection of shots showcasing her sizeable assets, Maxi them proceeds to press her big tits up against the glass shower door and squeeze streams of breast-milk from her nipples.
The best thing about Maxi's site, however, is that every photo series comes with an accompanying über high-resolution video shoot! Although this tiny preview clip is only 640×360, the actual videos downloadable from the site are a magnificent 1280×720 resolution!! But, back to the photos, here's our luscious, lactating 32JJ fertility goddess Maxi showing off her enormous endowments in the shower at Maxi32JJ.com: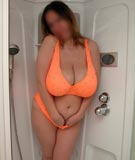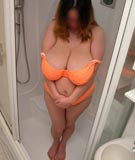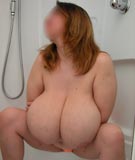 (note: sample photos are 1/4 resolution of those available on the site)
CLICK HERE TO VISIT MAXI 32JJ AT MAXI32JJ.COM