Like many breast-obsessed individuals, I frequent a number of on-line forums that cater to big boob lovers. Often, members will post photos of their favourite models for others to enjoy and comment upon. They tend to be great little communities, and I've made many a new discovery on them. However, I've seen some rather disturbing behaviour as well, where members who don't fancy a particular model will go out of their way to put her down in every way possible, usually culminating in an all-out flame war.
Show some decorum, guys! Just because you don't find someone attractive, that doesn't mean there aren't others who do. Everyone's got their own unique preferences…why, I've even heard there are some people who dislike big boobs (the heretics!). You get to participate in these forums for free, so please show some respect: If you happen to find a model you're not particularly fond of, just hold your tongue, bugger off and find someone else to wank to! [Sorry for the rant, but this is just something I find terribly juvenile and offensive.]
One such model that this minority of nasty, etiquette-deficient forum posters seem particularly cruel towards is Zina. Personally, I think she's rather nice. I first encountered an early photo her sporting red hair on a long-gone big boob forum several years ago and have been a fan ever since. And it wasn't just her fabulous 36HHH breasts that caught my attention…it was the whole, sexy package. I was fortunate enough to happen upon some videos of Zina the other day and have included a few clips with this post.
Although it appears that she's become a lot more adventurous since she's gone blonde (sounds prejudiced, I know) – and despite the fact that I'm quite partial to big, busty blondes – I think I might just prefer Zina as a redhead, as I'd originally discovered her. But there's no need to choose: There are plenty of photos & videos of both versions of Zina, along with a bountiful selection of other naturally huge-boobed models in all shapes and sizes, at her home-site of SiliconeFree.com!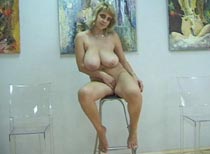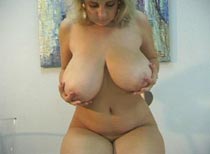 CLICK HERE TO VISIT ZINA'S WEBSITE