Here in the UK, the most widely circulated national newspaper is The Sun, and you can find it on countless British breakfast tables each morning. It looks innocent enough in its unimposing tabloid format…until you thumb past the front page headlines to the infamous "Page 3", where you come face to face with a full-page, full-colour topless model! What's with these Brits? Don't they know that there might be children at the breakfast table?!
My chief complaint about Page 3, though, is the models themselves: Being the proverbial "sticks with tits" favoured by the popular media, I can never find anyone I like there (Samantha Fox being a singular exception). I only mention this because I found two new galleries today from my favourite "token skinny chick", Faith. She just strikes me as if she'd be the ultimate Page 3 girl, and I'd be tempted to actually subscribe to The Sun if they featured more like her…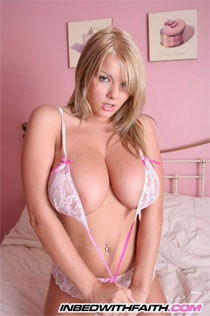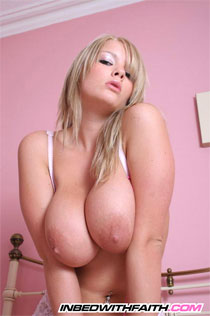 P.S. …in deference to The Sun, however, I must thank them for running a lovely article on my wife's charity website late last year – although I can't figure out, with features such as Page 3 in their paper, why they wouldn't show Vix' nipples. Hmm.
CLICK HERE TO VISIT FAITH'S WEBSITE