I was trolling the mellifluous milieu of mammary message boards the other day and stumbled across a curious thread entitled Boobs Pressed on Glass wherein one breast obsessed forum member wrote, "I don't know if this is the right place to post this, but does anyone have any pics of babes with their tits pressed up against glass or any other clear surface? lol, I don't know why, just something I have a thing for and can't find much."
This got me wondering if the boobs / glass interface thing was a common fetish. Personally, I'd prefer hands-on access to the tits, rather than having some transparent plane separating me from their bosomy goodness. The latter just seems far too much like a zoo or museum display (hmmm – a "Boob Zoo" – now that has potential!). If someone was going through the trouble of setting up some sort of erotic big breast exhibit, I expect they'd have the common sense to make it a tactile, interactive installation.
Still, I do understand that some, like the forum poster above, find this "tits pressed against glass" thing somewhat erotic. You get a unique perspective on their squishyness with good planar definition of the nipples and areolas. So I set out to locate some photos of this unique occurrence to satisfy Mr. MotorHed's specific breast fetish, and had to go no further than Alicia 36JJ's most recent photo series at DivineBreasts!
In it, we get to play outdoor voyeur as Alicia prepares to clean her sliding glass door. Of course, such a task requires that she flop her JJ-cup tits out of her loose-fitting cleavage-revealing top to do so (hey, makes perfect sense to me), and then pressing her big boobs up against the glass door liberally throughout the course of her topless cleaning escapades (mmmm – slippery, soapy tits – now there's a fetish!). Oh, and for those of you with a particular penchant for extraterrestrial breasts, there's even a glowing ET finger shot in the series (OK, so it's a flashback…in the photo, not me)!
Here are a few photos of Alicia – 36JJ tits on glass – from DivineBreasts.com: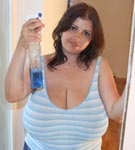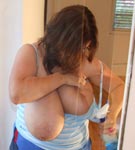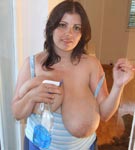 (note: photos downloadable from the site are 1024×768 resolution)
CLICK HERE TO VISIT ALICIA 36JJ AT DIVINEBREASTS.COM
(webmasters)
[P.S. My real reason for making this post was to find out just how many people would find it by searching for "tits on glass" via Google (thus providing a fairly accurate measure of the extent of this fetish). However, if you've got some other good examples to share, log on to FreeOnes and post your findings!]