Apologies again, but I've really been getting into this webcamming lark as of late. It's a blast being able to troll through a long list of busty women, perve at their pics and peruse their profiles, and then choose one with whom to spend some "hands-down quality time" [*wink-wink, nudge-nudge* ].
In addition to having found a few familiar faces there, it's turning out to be a veritable frontier for finding new big tits talent! My latest "discovery" is 38G Jelena whom, as it so happens, is slated to be the covergirl for the December 2006 issue of Score's Voluptuous Magazine!!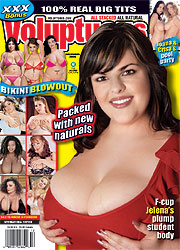 It's in her role as a live big boobs webcam queen for ImLive, however, that the 22-year-old Jelena really shines. A consummate performer, she does whatever it takes to please her audience. Her costumes consist of everything from low-cut tops to bras to wet t-shirts (when she's not topless, that is). Jelena's even got a nurse's uniform among her wardrobe, should you require some of that "sexual healing" that Marvin sang about, and occasionally plays the busty, sexy schoolgirl as well! She's also the first webcam girl I've known who takes her live cam show into the bath.
Among the talents touted on the profile page of Jelena's Fan Club we find toys, anal sex, double-penetration, blow-jobs (in fact, she claims to be the best cock-sucker there!), tit-fucks, foot-jobs & role-play. Throw her friendly, bubbly personality and gorgeous G-cup breasts into the mix, and you've got a resumé for the ultimate virtual girlfriend! Here are a few vidcaps from lovely Jelena's live webcam sessions at ImLive.com:



CLICK HERE TO VISIT 38G JELENA AT IMLIVE.COM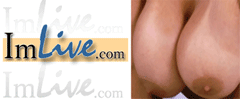 More Live Boob-Cams from ImLive.com
(webmasters)