Well, Erotica 2006 has come and gone. It was nice spending some time in London catching up with various pervy friends, but the show itself wasn't anything to write home about. Rather than concentrating on sex, they'd pretty much gone commercial. And, sadly, I can now confirm first-hand that the formerly 38HHH Linsey Dawn has indeed "opted for the op". :~(
And so, on with life…
When I was updating my chronicle of Devyn Devine's bosom buddies the other day, it appears that I'd inadvertently neglected the latest arrival amongst the cavalcade of cleavage queens enjoying the divine carnal delights of Devyn – Brandy Dean! When I'd first blogged Brandy with regard to her appearance at Big Tits Round Asses, she was met with mixed reviews after the JuggMaster revealed that her breasts were enhanced. Thus, I thought this might be a prime opportunity for you to perform a qualitative analysis!
So, purely for the sake of scientific comparison, here's all-natural 38DDD Devyn Devine going tit-to-tit with an augmented 38DDD Brandy Dean over at Devyn's own DevynDevine38DDD.com…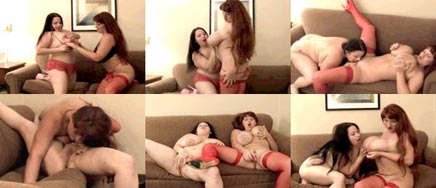 …now that you've got that one under your belt (to coin a phrase), let's extend our qualitative analysis into the quantitative domain by adding an unsuitably small-breasted babe into the mix! While Devyn's website doesn't provide stats on this anonymous model, I'd be tempted to classify her as having natural B-cup breasts with a band size of 34 (far too small for MyBoobSite, I know, but this is in the interest of science).
Now, taking the lovely Devyn Devine out of the equation for a moment, if you had to choose between, say, a titfuck from DDD-cup Brandy Dean or little miss 34B (with no other choices available), who would you pick? For me, the answer is obvious; but, then, I'm not one to sexually discriminate against those women who've made the decision to undergo a wee bit of surgical assistance in achieving an ample endowment.
Once again, to assist in your analysis, a few video clips of Devyn's lesbian threesome courtesy of DevynDevine38DDD…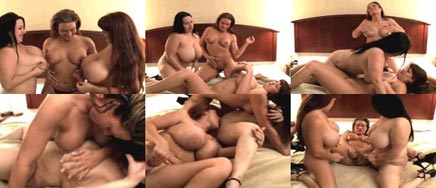 …and finally, a gratuitous FFM threesome gallery for no other reason than the fact that I'm rather fond of a 2-on-1 blowjob and to show that Devyn is an equal opportunity fucker when it comes to being faced with an orgy of tits, cock & pussy (or even the odd head-mounted dildo, for that matter!)! Aren't bisexual women just the best?! Yes, yes they are. And so, our final selection from the indiscriminate Devyn Devine at DevynDevine38DDD.com: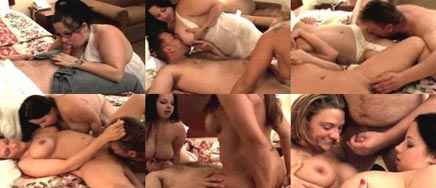 CLICK HERE TO VISIT DEVYN DEVINE 38DDD AT DEVYNDEVINE38DDD.COM

(webmasters)