Although 36G Amber Hall made a double cameo appearance in my recent Random Tits from Busty Brits blog, I find myself growing ever more attracted to this sexy English siren with each passing series. Ah, but it's more than merely the milky white skin complexion of her comfortably voluptuous body complemented to perfection by those gorgeous G-cup breasts that has me relentlessly falling in lust with this well-endowed girl; rather, it's how she seems to get ever more sublimely sexy in a slightly slutty sort of way each and every time I come across her! Why, just those piercing eyes and sex crazed succubus smile are enough to set my mind off on a frenzied excursion into unbridled erotic fantasy…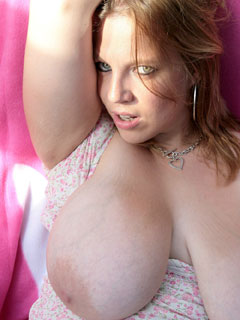 (photo courtesy of BustyBrits)
…which deftly leads in to my political proposal: If ever I were appointed to be Sex Tourism Minister for Great Britain, I dare say that Amber Hall would be my chosen poster girl to promote interest in the more prurient of travellers to partake in one of our greatest national treasures: English sluts! Not to be disrespectful as, to me, the term "slut" implies a quality worthy of highest praise, but I have never in my life encountered so many sexually promiscuous slut girls as I have here in jolly old England!
'Twas an education at first, me having moved here eight years ago from the comparatively Puritanical U. S. of A., but I soon learned that busty British babes were amongst the horniest women in the world. In fact, the very first girl I encountered on my inaugural trip to the UK was splayed out naked spread-eagle before me and stroking her pussy as if to offer up the main course in a veritable sexual buffet within a mere 20 minutes of meeting her (so what did I do? why, I married her, of course!)! And, ever since that first hopelessly erotic experience had me well & truly hooked on busty Brits, the seemingly endless procession of promiscuous girls willing to have sex just for the sake of fucking has been virtually non-stop!!
Ah, but why should I be the only foreigner to benefit from the more sexually open free love culture that Britain has on offer? In these troubled economic times, you'd think that our government could plainly see that opening our borders to sex tourists is the wave of the future! And so I solemnly propose that a Ministry of Sex Tourism be established immediately to help promote our most horny national heritage and, to provide a succulent taste of what the prospective sex tourist could typically expect of our exceedingly lovely and ever lustful English lasses, I give you my chosen poster girl for the effort – the stunning 36G Amber Hall from BustyBrits.com…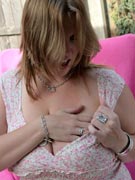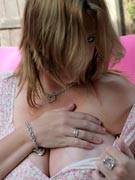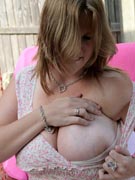 (note: actual photos available for download from the site are 1500×1000 resolution)
…another thing that stands in our favour as foreigners is that, in contrast to their female counterparts, English males seem far more sexually reserved in nature. I cannot count the number of times I've been regaled with sad stories from horny girls out on the prowl for a penis to satisfy the cavernous carnal compulsions of cock-hungry pussies longing to get laid only to be knocked back by some bumbling British bloke in their effort to pull! What's even worse is that one girl I know, upon approaching a guy whom she considered a likely candidate for a one night stand, was accused of being a prostitute simply based upon the fact of her sexual forwardness!
So what's the lonesome, lusty English slut to do when there's no available and willing cock to keep her empty pussy occupied? Yes, depressing though it may seem, there are frequent instances when this bizarrely inexplicable dick deficit leads to the sad & lonely land of female masturbation as the only alternative in achieving the orgasm they so desire. Then again, considering that girls masturbating is a major fetish of mine, I must admit to a certain profoundly perverse pleasure in watching women wanking themselves off and these horny British beauties seem to have honed their personal masturbation techniques into a fine art. In fact, I know some English girls who just carry on wanking even when there's a convenient cock to hand!
And so, in a celebration of the masturbation mastery achieved by our lusty, busty English lasses longing to be fulfilled, once again here's the alluring Amber Hall fondling her beautiful big breasts and masturbating her pussy off to orgasm once again courtesy of BustyBrits.com: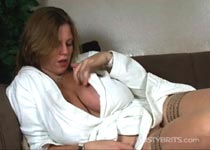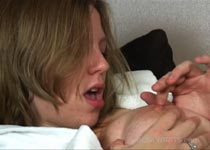 (note: actual videos available for download at the site are 640×480 resolution)
CLICK HERE TO VISIT 36G AMBER HALL AT BUSTYBRITS.COM

Share and Enjoy
→ Return to MyBoobSite for More Big Tits ←