I know that I'd just blogged DivineBreasts a couple of days ago, when I'd postulated that Alicia 32JJ & Pam Parker could be sisters, but the latest DB update over this past weekend has driven my infatuation meter off the scale. I also realise that I'd blogged Ann Vanderbilt just before going on my Summer holiday and, although I was duly impressed with the mega busty blue eyed blonde and her pendulous 38J breasts, I believe I was focusing solely upon her proportions and not seeing the the truly beautiful woman standing behind those big boobs.
I hold myself only partially to blame for this, however, as it was Ann's first shoot and she did appear a little bit uncomfortable in front of the camera. As Curvelover observed in his comment on my first blog of Ms. Vanderbilt, "I'd wager her stone-faced look is nerves…", and then went on to say, "…but she has a serene look about her that's not as disturbing as some other models who look miserable." Too right, CL. To be fair, she's just starting out in the big boobs scene, and a bit of nervousness when all of the attention suddenly falls upon you is most understandable.
In this latest shoot Ann did for DivineBreasts, she seems a fair bit more comfortable and her personality is beginning to shine through (which is most likely what's responsible for my new-found infatuation with her). She's begun making more eye-contact with the camera and even, as Curvelover had predicted, cracks a smile! It's great that we've been given the opportunity to witness this transformation first-hand – from a shy first-timer to the playful, confident big boob goddess I just know she has hidden inside of her.
It used to be that I'd visit Divine Breasts in eager anticipation of something new from Alicia 36JJ, but now it's Ann Vanderbilt who's stolen the top position for me. I look forward to seeing her topless modelling career develop as she emerges from her shell and takes her rightful place among all the greats. But, for now, here's a preview of her most recent series at DivineBreasts.com…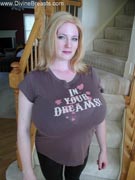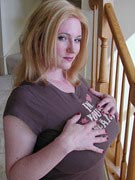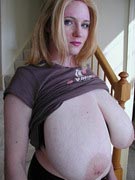 (note: actual photos available on the site are 1024×768 resolution)
…it also appears as if Ann could unseat Sarah Mercury as the queen of big floppy tits (as evidenced in the first of the video clips below). But, in addition to being the picture of pendulous pulchritude that she is, Ann's J-cup jigglers boast a rather unique and unusual talent as well. Yes, you guessed it, she's got musical breasts (just give a listen to the second video clip)! As a long-time collector of unusual idiophones, I'm frankly surprised that I'd never considered big boobs to be among this classification of instruments.
However is she able to get such a variety of clearly-pitched tones from just one pair of breasts?! I'd have expected that a variety of cup sizes would be required for that!! Alas, it seems I still have a great deal to learn about the acoustical properties of the boob-o-phone. Needless to say, if my old band was still together, Ann would be at the very top of our list for prospective guest musicians. And so I give you the beautiful and multitalented Ann Vanderbilt in these clips from her latest videos at DivineBreasts.com: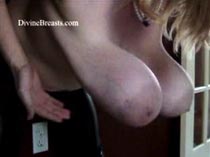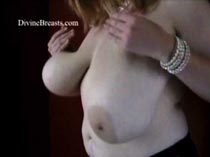 CLICK HERE TO VISIT ANN VANDERBILT 38J AT DIVINEBREASTS.COM
(webmasters)
Share and Enjoy
→ Return to MyBoobSite for More Big Tits ←