Amidst my Google searches for blog fodder last night, I ran across an article in LA celebrity gossip rag Defamer entitled "Big Breasts Huge in 06!" It turned out to be a rundown of "well-endowed actresses" who'd attended the recent Emmy Awards ceremony and postulated that "Hollywood's stylists [had come] to the unanimous conclusion that the perfect way to accessorize a plunging neckline on an exquisitely tailored gown was with a huge pair of breasts."
Looking at the cleavage shots accompanying the article, however, left me wondering if the popular media had adopted a different standard of measure than the rest of us. While a C- to D-cup might well be considered big by Hollywood standards, referring to any of these women "huge" in the bust-line department is a seriously dramatic overstatement! Simply give a woman a low-cut dress, reinforce her meagre assets with a push-up bra (and perhaps some duct tape) and she's suddenly well-endowed?! I think not!!
If they want to see what huge breasts really look like, then perhaps a visit to the one and only JuggMaster is in order! Therein, they'd find a most excellent cross-section of beautiful women, all with endowments well worthy of such a superlative adjective. I mean, even if they put all six of their "busty" actresses together, I doubt they'd cumulatively possess enough adipose tissue to fill even Maria Moore's GG-cup juggs (and she's the smallest in today's blog!)!
And so, in MyBoobSite's post-Emmy progression from a GG- to a J-cup (in my decidedly futile effort to show those Hollywood types what we really want to see on-screen), we commence with the ever-lovely 36GG Maria Moore from JuggMaster.com…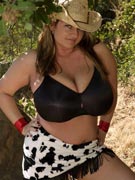 CLICK HERE TO VISIT MARIA MOORE 36GG AT JUGGMASTER.COM
…stepping our standards up a notch brings me to HH-cup Sapphire. While this gorgeous redhead is indeed no stranger to MyBoobSite, I must admit that the first time I saw Sapphire totally naked was courtesy of JuggMaster (and I thank you, kind sir)! How is it that he's the only one who's been able to coax her pants off so far? Who cares, really?! I just want to see MORE FULLY NUDE PHOTOS of her!! But, for now, here's a semi-naked Sapphire from a sexy series within which she allows her HH-cup bra to slip seductively from her shoulders in order to reveal her exquisite 36HH assets in all their glory…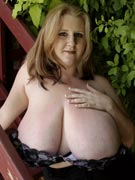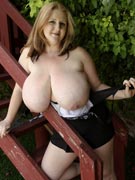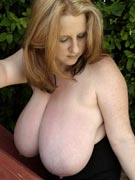 CLICK HERE TO VISIT SAPPHIRE 36HH AT JUGGMASTER.COM
…moving along to the elusive I-cup, we have 46I Amazon engaging in a little activity that JuggMaster calls "King-size Coconuts", wherein participants try to conceal a coconut palm within their colossal cleavage. I have thus far gone through 42 years of my life without having to utter the phrase "boobs big enough to tit-fuck a tree trunk", but suddenly find that I can hold back no longer. And Amazon – an apropos adjective for this comely Caribbean queen – isn't the only one capable of performing this phallic feat: So far, 21 of the JuggMaster models have risen to the challenge and succeeded. But, if I had to choose a winner in this particular event, it would definitely be Amazon…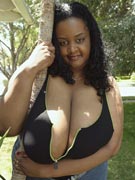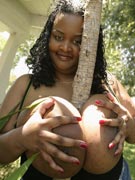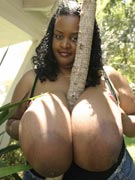 CLICK HERE TO VISIT AMAZON 46I AT JUGGMASTER.COM
…and, lest ye think I could get through an entire blog without mentioning a blonde, we at long last arrive at 38J Amber in our luxurious cavalcade of large cup sizes (well, perhaps she'd be more accurately considered a strawberry blonde, but that still counts in my book). As the J-cup entry in our burgeoning benchmark of big boobs, JuggMaster's Amber exemplifies the pendulous proportions I'd like to see appearing on the silver screen.
But, alas, I fear my efforts will be for nought. Despite the "I love big tits" attitude that the media reports as being so prevalent in America, I sincerely doubt we'll witness anyone meeting our minimum mammary requirements in a mainstream role anytime soon. Why, even our own G-cup supermodel Jana Defi is having a hard time trying to break into the movie market! Will such naturally well-endowed women be forever relegated to mere novelty status in ads and music videos? Freaks of nature served sparingly for nothing more than (and pardon the pun) titillation value?! I sincerely hope not.
Still, I suppose we can take solace in that there are a few kindred spirits out there who know what we want to see (Juggmaster being a prime example). Then, we can also rejoice in the fact that boobs certainly appear to be getting bigger! As braologist Carol Rashleigh reported in an article for Australia's National Breast Pride Week entitled "Do my breasts look big in this?", the demand for bra sizes above a G-cup are on the rise, and women above a D-cup are becoming the norm rather than the exception! So maybe we just need to let nature take it's course, and it will be but a matter of time before the Hollywood moguls run out of under-endowed actresses! :~P
Anyway, off of my soapbox and on to the pics, here's 38J Amber (just in case you'd forgotten in the midst of all my rambling) from JuggMaster.com: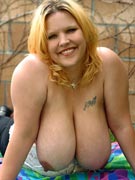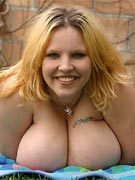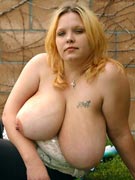 CLICK HERE TO VISIT AMBER 38J AT JUGGMASTER.COM