aka Dream of Ashley Sage Ellison Addendum
As a follow-up to Friday's blog, I'd like to draw your attention to what Are you serious? wrote in his comment: "Just curious, but are there that many BBW lovers out there that models tend to get larger for that market on purpose, or is getting larger just easier because they can make money that way, too? I'm just curious because it seems like so many models with great proportions just get larger and larger. So for me, they move from healthy bodies with great big breasts to simply big women with big breasts…"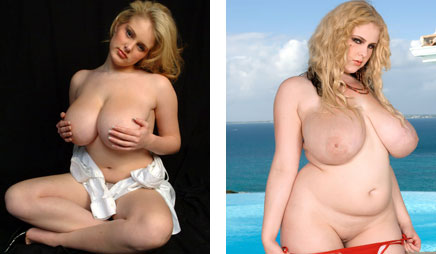 …to which Arakna concurred, citing additional examples of this busty girls getting plumper phenomenon such as Dors Feline…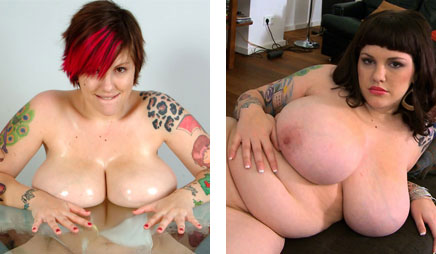 …and Kerry Marie…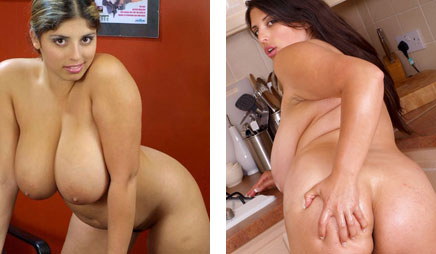 …saying, "They looked fantastic at the start but, just like Ashley, they've gotten bigger and bigger."
Now, not to discount the busty plumper praise bestowed by BoobyLvrX who prefers Ashley chubby or loveembig who feels, "Thinner or heavier, I think she looks awesome both ways. Count me among those that think she looks even hotter with the more curves," I'm interested to hear more big breast lovers' views on what seems to be seen as a growing issue of busty babes embiggening to buxom BBW proportions.
For me, since I found girls like Ash & Dors appealing to the chubby chaser in me from the outset, my prime example of the slim & stacked transformation toward the plumper end of the big tits spectrum would have to be beautiful busty blonde Micky Bells…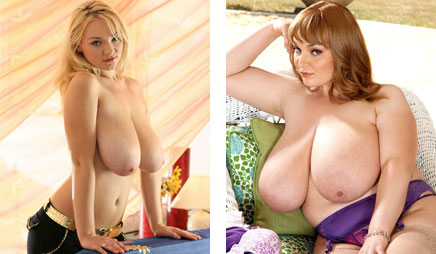 …because, starting out with what were arguably massive breasts compared to the relatively slender frame supporting their weight, we got to watch this already well-endowed woman's big boobs grow from G-cup to K-cup in the plumping up process! But bigger tits and my personal opinion aside (since I do tend to find further fat fetish features as busty girls put on pounds), I'm again more curious about others' opinions on this apparent plumpification of porn models. So, is it some sort of seriously weighty issue that needs to be addressed? Or simply a natural progression in their cleavage careers as our mammary models mature?
And, since it was the pleasingly plump figure and gorgeous JJ-cup juggs of our adorably ample Ashley Sage Ellison that inspired this growing tits topic to come to light on a plumper perspective, let's close with a look at her big boobs beach bunny video from XLgirls.com…
Loading the player…
(right click here to download video)
…which suddenly appeared on my boob grid below as a new video update shortly after I'd finished that last Ashley blog (wouldn't you know it? :~P):
CLICK HERE TO VISIT 32JJ ASHLEY SAGE ELLISON AT XLGIRLS.COM

(webmasters)
Share and Enjoy
→ Return to MyBoobSite for More Big Tits ←