Geez, try to get sexually adventurous with some people, and they freak out completely! Such was the case in my cream pie feeding blog in which the stunning 36HH Jenny Seemore shared her hubby's cumshot with him in what I felt was a most erotic manner. Moments after I'd posted this sublimely sexy scene, however, comments registering your disapproval and, in some cases, "udder" disgust over such porn perversity came flooding in like the lovely cum gushing cunt to which they referred: "Fuckin nasty," "it's just wrong," "Dude, you're stuff is getting nastier and nastier. Gross, you've lost your way…" and, perhaps most damning of all, "If I wanted to watch some faggot suck back a load I wouldn't go a website that showed women with huge tits. What a fucking queer." One of MyBoobSite's respondents even threatened to wash his eyes out with bleach (and he has the nerve to say, "What the fuck?!")!
[Btw, to the gentleman who wrote, "I wouldn't mind seeing a picture of your wife. If it's not to much to ask," whose wife were you referring to? I hope it wasn't mine, coz she's somewhat modest and sexually conservative.]
Granted, there was a fair measure of positive praise posted to balance out the negative reaction: "Gwad that is hot," "Great fucking big boobs," and, "Now thats a nice hot dirty big tits slut. I love it!" But my favourite of all had to be from MyBoobSite reader Peter who wrote, "In between peeks at juicy boobs you prissy boys and girls need to wake up and smell the hot pussy! Blow a load of jizz on top of your favorite pair and let her lap it up and it's juzz fine, you share a little of your milk shake with her and you're a faggot?" [Oh, and Pete? I really enjoyed the pair of cunty fingers under your nose bit. Brought back a pleasant olfactory memories, that, at it happens to me quite a lot whilst we're watching the telly (is mildly disturbing when we're watching something along the lines of Bizarre Animal ER, though).]
At the risk of exposing myself to being branded a pervert and sexual deviant, I genuinely felt that that post was the sexiest thing ever to grace MyBoobSite! And I have a great deal to thank gorgeous Jenny Seemore for as well: To wit, remember when I mentioned way back in my old porn addiction blog that my work with big tit porn had left me a bit jaded and immune to most hardcore content except for one highly specific niche? Well, I'm pleased to report that I found Jenny's post-fuck feeding video so fucking horny that it actually gave me an erection (something which hasn't happened for years since I started blogging big tits porn sites)! So, from the top of my heart to the bottom of my scrotum, Jenny, you have not only secured kudos from my cock but also my eternal genital gratitude (so to speak). :~)
Speaking of juicy boobs and milk shakes (as Pete did previously), how would you all feel if you had a girl jacking you off using the breast milk squirting from her large lactating tits as milky handjob lubricant? Would you consider that some manner of disgusting and decadent dairy deviance?! Methinks I should test the waters to see if the general consensus amongst our big breast fetish community extends to such an erotic exploit as massive mammary milk masturbation (I'd say cock milking, but that's a different genre altogether). But, surely, videos of well-endowed women wanking willy with a questionably slippery lactate lubricant must be an extreme rarity in porn – shouldn't it? Well, as luck would have it, our self-same super sexy slut Jenny Seemore just so happens to have that particular naughty niche of busty cum slut breast sex covered in Come Depot as well!
And so, fulfilling this fantasy of phallic lactation by milking her huge HH-cup breasts squeezing milk from her nipples on a penis for lubrication, here's 36HH Jenny Seemore in a couple of clips from her big boobs milking handjob videos that come courtesy of ComeDepot.com…
Breast Milking Handjob Lactation Videos from ComeDepot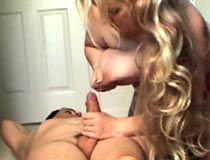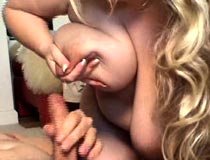 …so, how do you feel about that sort of slutty sex stuff being on MyBoobSite? Any better?? And what of Pete's observation that it's alright for a girl to lick cum off her tits after (how shall I say?) getting cum on her tits in some manner or other?! Is this okay in comparison since it just so happens to be a beautiful busty girl licking cum and not a guy? Would it be any different if, say, he was licking cum off her boobs after ejaculating jizz on her enormous tits?? Well, since today's big boob blog is all about eliciting opinions as to the erotica value of such specific sex acts and big breast fetish fantasies depicted upon MyBoobSite in video form, here's lovely juggy Jenny once more – this time getting a big load of jizz on her tits and then licking them clean – in these big breast cumshot videos from ComeDepot.com:
Big Tits Cum Licking Videos from ComeDepot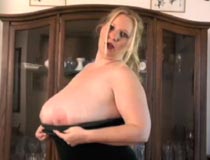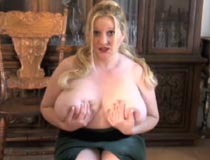 CLICK HERE TO VISIT 36HH JENNY SEEMORE AT COMEDEPOT.COM

Share and Enjoy
→ Return to MyBoobSite for More Big Tits ←