I have just seen the most amazing big boobs swinging and self tit-sucking videos of my life! It was on Divine Breasts and features the JJ-cup breasts of Alicia "36JJ" Loren in what is arguably the best big tits slapping and swinging and suckling action of all time, imho. Just the preview thumbnails themselves were so "udderly" compelling that I instantly had to download the full set of videos so I could share some clips with you!
However, I suppose I'd be setting a bad example if I just posted the video clips and didn't follow good blogging procedure. However, what more can I say about the lovely Alicia Loren that I've not already noted here in the past, considering that she may well be the most feature model on MyBoobSite? We already know that this heavenly DivineBreasts discovery achieved instant acclaim amongst big breast lovers for her full, pendulous JJ-cup tits as well as just the fact that she's so damn cute.
Then, when Alicia began lactating, we watched the mammary madness balloon epic proportions as she began releasing video after video featuring this new-found – and dare I say "expressive" – talent of hers, quite literally milking it for all it was worth! And, indeed, Alicia's huge squirting tits were the lactation sensation of a lifetime, sending almost orgasmic ripples of JJ-cup joy throughout all of big boob-dom. We witnessed with wonder this well-endowed woman doing everything from sucking the milk from her own massive mammaries to cleaning her windows with the delightful streams of dairy goodness issuing forth from her milky nipples!
As if that wasn't enough, Alicia started her own alicia-loren.com website wherein she could treat her big breast-fetish fans further with photos & videos of herself going tit-to-tit with various busty girlfriends as well as just serving up more of the scrumptious solo shoots we'd come to know and love. Although I'd originally feared that this new on-line venture would mark her departure from the site which gave her such an illustrious start in her career as a big boobs model, the passage of time proved that this was happily not the case as Alicia has continued to be a regular on DivineBreasts ever since.
But just when we thought that things couldn't be any better than this, Alicia dropped yet another bombshell on us by revealing she'd been appearing on webcam for quite some time even prior to her discovery by DB! Huge boobs must help with multitasking because, although Alicia has her work cut out for her in providing continuous streams of new content for both of the sites upon which she appears, she somehow still finds plenty of time to do live webcam sessions with her fans. What's more, her cam site even goes so far as to reveal the answer to that age-old question, "What would our already wonderful world of big boobs be like if Alicia was a blonde?!"
Of course, for this to be a properly well-endowed blog entry, I'd have to include some photos of the lovely Ms. Loren as well. And so, here's a few pics of our JJ-cup goddess Alicia Loren showing off her colossal cleavage for a bit before getting her big boobs out on the couch courtesy of DivineBreasts.com…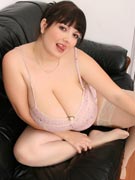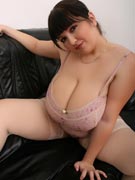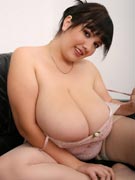 …cool – that tedious task well and truly out of the way (blogging big tits can be such a chore), we can move on to those amazing big tits videos I was talking about! As with the photos, the video clips begin with our stunning Alicia lounging about in a terribly sexy cleavage revealing top, jiggling her gigantic JJ-cups until the flimsy spaghetti straps fall from her shoulders and her huge breasts come spilling out onto her lap. As they're obviously begging for tactile attention, Alicia fetches a nearby bottle of lotion, pours a generous measure into her copious cleavage and begins a nice boob massage!
Her huge tits now well-oiled and ready for action, Alicia arises from her comfy chair and leans forward, allowing her pendulous breasts to hang freely from her chest ("heavy hangers" indeed!). Bouncing her body up & down and twisting her torso from side to side, Alicia then elicits some of the most hypnotic mammary motion ever caught on video, her massive boobs bouncing and jiggling before beginning to slap against each other so vigourously that the inertia of impact propels these twin pontoons of breast-flesh outwardly with such force that it reminds me of those little silver ball thingies used to demonstrate Newton's law! A finer example of breast physics I've not seen before. Put those big tits in your second-life pipe and smoke 'em! ;~)
But wait – there's more! Once she sits back down and the aftershocks from her jiggly tits subside, the self tit-sucking commences as Alicia labouriously lofts one of those heavy handfuls up to her lips and proceeds to suck her nipple hard. The suction is so intense, in fact, that she's able to release her hand from supporting the underside of her breast without it just flopping out of her mouth, as one would expect, due to the dramatic increase in weight! Then, she repeats this gravity be damned exercise with the other breast, first biting the nipple before sucking nearly the whole of her huge areola into her mouth but, this time, at length releases her immense sucking power, allowing that magnificent mass of JJ-cup tit-meat to fall heavily upon her chest.
There's more to this video than that, to be sure, but those are my personal highlights that I wanted to share with you. My work here now done, let's all sit back and enjoy a tit-slapping good time with 36JJ Alicia Loren in these exceptional huge breast dynamics videos from DivineBreasts.com: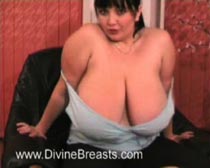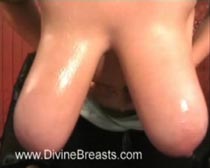 CLICK HERE TO VISIT 36JJ ALICIA LOREN AT DIVINEBREASTS.COM

Share and Enjoy
→ Return to MyBoobSite for More Big Tits ←