Okay, so you may not think that Eden Mor being totally nude is particularly newsworthy. After all, she did those shoots for Score wherein she revealed every last curve and crevice of her voluptuous body, and then there was that Bozena lesbian video as well. However, up until now, I've never seen Eden stark bollock naked in her own Garden of E-D-E-N site!
"But what about her 'Casual' series back in February?" I hear you mutter, "Tits, ass, pussy – we got to see it all!" Be that as it may, I have to disqualify that one on the technicality that Ms. Mor was still wearing socks throughout the entirety of the shoot, thus concealing everything from her shins down to her toes and rendering her only nearly-naked.
Her latest 'Bubble Bath' series is different, though, and a first for the site. From the first photo to the last, there's not a stitch of clothing to be seen, allowing us on unobstructed view of the stunning Israeli beauty that is Eden Mor in all her glory (well, apart from a few soap suds every now and again)! Quite the departure from the relative innocence of her humble beginnings when the most we could hope for was a topless shot of Eden's heavenly HH-cup breasts (and one that I welcome with open arms).
So well done, Eden, in shedding all of your inhibitions and revealing the whole of your body beautiful to adoring fans like myself. Here are a few preview photos from the series at GardenOf-E-D-E-N.com…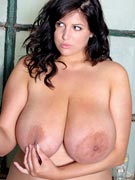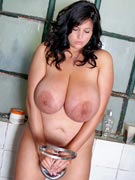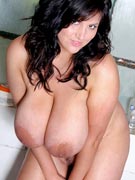 …and, as with most of the series on her GardenOf-E-D-E-N site, there are accompanying videos to complement the photo shoot and, in most cases, these are even hotter than the pics. Perhaps it's the fact that she shoots the photos first, working herself into a horny frenzy by the time the video camera comes out. Perhaps it's her endearing, exotic Middle Eastern accent with a slight yet adorable lisp whenever the word "breasts" passes her lips. Whatever the case, it's always a joy to see the lovely Eden and her massive mammaries in motion, courtesy of GardenOf-E-D-E-N.com: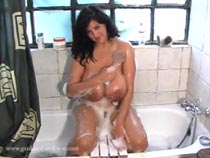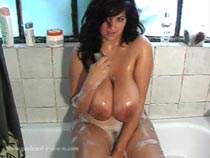 CLICK HERE TO VISIT 80HH EDEN MOR AT GARDENOF-E-D-E-N.COM

Share and Enjoy
→ Return to MyBoobSite for More Big Tits ←