This is turning out to be a rather intense week at MyBoobSite's headquarters. In addition to working diligently upon a few other exciting breast-centric ventures we've got in the works, Vix & I are preparing to attend Erotica 2006 this weekend in London, a conference which bills itself as "the world's largest lifestyle show for freethinking adults who are comfortable with their sexuality". Whilst we'll be busy chatting up models and engaging in a bit of shameless self-promotion of our own, if you happen to be there and happen to see us wandering the hallowed halls of Erotica, please stop and say "hello" (granted, the only time you guys get to see Vix & I together is when we're fucking, so we thought we'd provide a non-action pic to help you identify the two of us should you be in attendance).
Regarding Erotica, I was chatting with my mate Cel (of XX-Cel.com) about it the other day to ask if he was going to attend. During our conversation, Cel mentioned that the post-op Linsey Dawn McKenzie would be there promoting her new and "improved" lithesome figure after her breast reduction. This concerned me a bit, as I'm uncertain how I'll react to seeing one of my former big boobs icons having been reduced – quite literally – to someone who wouldn't even qualify to be featured here on MyBoobSite due to wilfully relinquishing her "F-cup & Up" status! Hmmm. Perhaps its best if I avoid her booth altogether. To be perfectly honest, I'd much rather be in LA this weekend for Glamourcon 40, as Jana Defi will be there! I suppose London is a lot closer, though. *sigh*
Alas, my only solace in the woefully-depressing LDM debacle can be found in the copious collection of the now-vintage Linsey Dawn photos & videos to be found on the Score family of sites, from when she was a glorious, all-natural 38HHH instead of her present 32DD proportions. Back then, she could do lipstick lesbian shoots alongside the likes of 34I Autumn-Jade with impunity. But, sadly, those days are gone. Thus, in an effort to hold fast to our fond memories, here are a few photos of former HHH-cup Linsey Dawn McKenzie from Scoreland.com…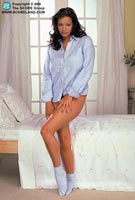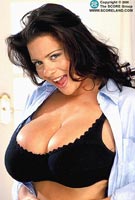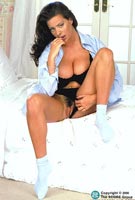 CLICK HERE TO VISIT LINSEY DAWN MCKENZIE AT SCORELAND.COM
…although I wholly support a woman's decision to do whatever she wishes with her own body, I can't help but feel a little let down in Lindsey's case. She'd plied the British public with her breasts in the popular media from the tender age of 16, and then suddenly decides to take them away from us. I suppose only genuine big breast lovers like ourselves would truly understand. Never before would we have had the opportunity to witness the natural development of such an extraordinary pair of huge boobs as her years progressed. Our chronicle, however, ends at the age of 27 when Linsey Dawn opted for the reduction.
But who am I to question the reasoning behind her decision? Athough never mentioned to the press, Lindsey may have been suffering physiological complications brought on by her breast size. All I know is that it marked the end of an era, and I'm not looking forward to seeing her at Erotica 2006 this weekend. However, as the de facto hooter historian here, I feel it my duty to expose future generations to the wonder that was Linsey Dawn McKenzie in her 38HHH incarnation. And so, some video clips – including her first-ever foray into the world of hardcore porn – from her heyday as our beloved HHH-cup queen courtesy of ScoreVideos.com: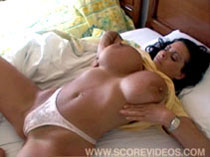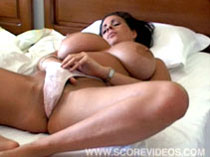 CLICK HERE TO VISIT LINSEY DAWN MCKENZIE AT SCOREVIDEOS.COM

(webmasters)
Share and Enjoy
→ Return to MyBoobSite for More Big Tits ←