When I opened my latest care-mail from the lovely Silky C of JuggMaster, I could never have anticipated what I'd find therein. Unlike the typical variety pack she treats me to, Silky sent a nice little collection of 38K Juggmistress photos to show their JM's expanded image format and a download link for a .wmv video file unimposingly entitled "JM Milk Preview Theater".
The pics were from JuggMaster's latest "Milk-Laden Maidens" collection and featured said webmaster's well-endowed wife casually cavorting outdoors wearing splendidly-sheer, see-through lace lingerie (well, "cavorting" may be a bit of a stretch, considering that she has to lug those K-cup juggs around all the time). It's not long, though, before the top comes down and the tits come out, squirting their milky goodness to and fro across the landscape.
Why am I telling you all this since you can plainly see what's going on in the photos below? Well, to be perfectly honest, it's for search engine indexing! With that out of the way, here's Juggmistress and her huge 38K breasts courtesy of JuggMaster.com…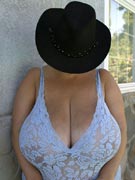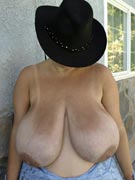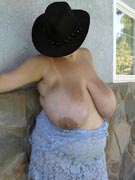 …next came the movie link. After tapping my fingers interminably whilst I waited for the comparatively massive 7MB file to download (most of the preview video clips I typically receive being a mere fraction of that), I was suddenly faced with one of the most awesome lactation videos I've seen. The sheer volume of milk pouring effortlessly from Juggmistress' massive K-cup boobs had me rapt in "udder" amazement.
No, I'm not just hyping it up for the Google bot now, I was truly impressed. From the gentle breast caress to let down a steady dribble of dairy goodness to pinching her nipples hard to yield what must be at least a four foot stream of hot milk (blimey, with long-range lactating tits like that, who needs a super-soaker?!), Juggmistress knows what it takes to become a legend with us lactophilia lot. Bandwidth be damned, I just had to share it with you.
Thus, two minutes of mammary madness by our "Mistress of Milky Mayhem", the incomparable Juggmistress 38K from JuggMaster.com: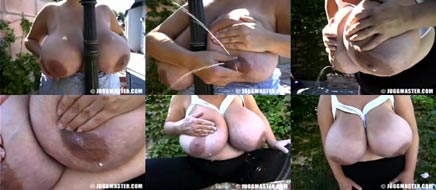 CLICK HERE TO VISIT 38K JUGGMISTRESS AT JUGGMASTER.COM

Share and Enjoy
→ Return to MyBoobSite for More Big Tits ←