The title for today's blog stems from my childhood. Growing up in Florida, I remember flashy neon signs boasting such sentiments on porn megaplexes everywhere I turned (until the law cracked down on said sex peddling establishments, that is). One particular venue that I used to drive past all the time in Sarasota (the city where friends & I used to throw our bizarre parties) achieved a fair measure of notoriety for being the site where childrens' television presenter Paul Reubens (aka Pee Wee Herman) was arrested for public masturbation in the early-'90s.
Having never been to a non-participatory public sex show like that, live or screened, this struck me as rather odd. Is it not de rigreur to "have one off the wrist" at these places? If not, what's the point?? They're showing "scenes of a sexual nature", dammit!! What're you supposed to do, just sit there and watch?! I guess there could be the issue of hygeine, but, honestly, I would've expected such venues to be more like our swingers' clubs here in the UK, where tissues and condoms are generously provided throughout the facility, along with appropriate disposal bins to address the potential hygienic hazards resulting from a successful wank. Then again, it's almost impossible to masturbate yourself at a swingers' club, as it's often only a matter of time before someone else comes along to "take matters in their own hands" for you! Oh, but I digress.
So, considering that it's apparently illegal to wank in public, it's a good thing that we now have the wonder of webcams and can jack-off to a live sex show in the comfort and relative safety of our own homes. Even better, we don't have to worry about the drooling, greasy guy in the trench-coat sitting next to us taking sneaky peeks at our cock whilst we're doing it! Add the fact that you're able to chat with the model to offer helpful hints as to what you'd like to see them do that would turn you on the most, it's a win-win situation all around!!
Straddling the line between just watching porn and real 1-on-1 sex, webcamming has exploded in popularity over the past few years because of its interactivity. It's literally like directing your own amateur porno flick, and a handful of ebullient, busty webcam girls – like Taylor Stevens & Casssidy – have become superstars in their own right on this medium. Some even offer a genuine "girlfriend experience", developing a more personal relationship with their cam mates rather than just fulfilling their raw sexual desires. Whatever you're looking for, it's there live on webcam.
Thus, seeing it's been a while since I've blogged the live, interactive porn circuit, I thought another mention might be in order for those of you who'd like to get a bit more involved than just looking at photos & videos by finding an "XXX Live Nude Girl" of your very own! Here's but a small sampling of the over 8,000 webcam women you have to choose from at ImLive.com:



CLICK HERE FOR MORE BUSTY BABES ON WEBCAM AT IMLIVE.COM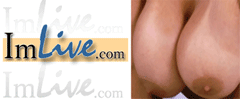 (webmasters)