OK, I've got a question for you guys: I was chatting with a webmaster mate of mine the other day, and he was wondering why I didn't feature more "women of color" on MyBoobSite. I thought about this for a moment, and realized that most of the sites I blog here are heavily weighted toward the caucasian end of the spectrum (except perhaps TittyLand, which has a nice mix of ethnicities, or ChocoMelons, a site wholly dedicated to busty African goddesses). So my question is, should I go seek out more sites with busty black babes to blog? If so, just let me know, and it would be my pleasure. ;~)
Which brings me to the lovely Mariana and her 38HH ebony boobs from the Ivory Coast. When Cel – boobographer extraordinaire who brought us such innovations as the 4×4 shot and the Inspecta-Cam™ – first posted a passel of preview pics of his profoundly pendulous discovery, asking his members whether or not Mariana should be included on the site, the answer came back a resounding "YES!!" (except for one twat who told her to get dressed and never come back, which Cel believes was probably her dad). Lucky for us, she's been on XX-Cel.com ever since, allowing Cel to freely explore new perspectives on those humongous HH-cup udders…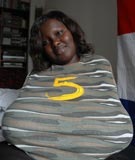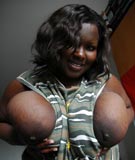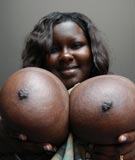 (note: sample photos are 1/4 resolution of those available on the site)
…but Cel's explorations are not strictly limited to the photographic angle. On no, he's far more hands-on (and lips-on and tongue-on) when it comes to that! In today's video clips, we get to witness Cel sampling and sharing Mariana's succulent nipples with her – surrounded as they are with dark chocolate areolas – before she suddenly realizes Cel's impertinence and begins beating him with her big black boobs! ;~D
No, seriously, the two actually get on quite well when it comes to things like sharing a sensual snog over a mountain of tit-flesh, and the fact that she pauses long enough in her tirade to allow for tit-sucking is evidence that Mariana is obviously enjoying herself as much as Cel (her moans of pleasure later in the video are a dead giveaway as well). Her are a couple of preview videos of their encounter from XX-Cel.com…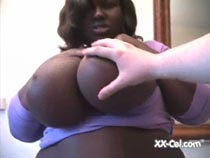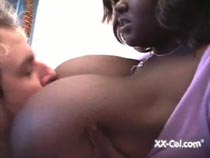 (note: actual videos downloadable from the site are 640×480 resolution)
CLICK HERE TO VISIT MARIANA 38HH AT XX-CEL.COM
…now on to the Peach shocker (sounds like a mixed drink, doesn't it?): The "Peach" bit refers to XX-Cel's latest model, a 25-year-old blonde Czech girl who goes by the name of Peach. The "shocker" is that I'm utterly enamoured with her, despite the fact that she's a mere DD-cup! :~o
Now, I don't want you to think I'm going soft here (in fact, I can assure you it's quite the opposite!), but, from the moment I laid eyes on Peach, I was hooked. Trouble is, I don't know why! It's certainly not her pert little boobies that got me going, as, at a 34DD, they're they're just a bit too small for my tastes. It could be that incredibly inviting pussy she's spreading in the bottom middle photo. Then again, it might just be the sultry, impish looks she shoots at the camera combined with her tousled, blonde hair.
Whatever the case, and regardless of her sub-standard (i.e. less than F-cup) bra size, I just wanted to avail you to the curious small-breasted infatuation stimulus that struck me totally unawares; fresh new arrival and stunningly sexy non-buxom blonde vixen Peach from XX-Cel.com…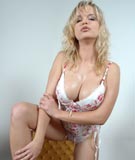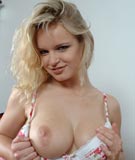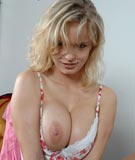 (note: sample photos are 1/4 resolution of those available on the site)
…and, man, can this girl move! Here are a couple of video clips of the bloody little prick-tease dancing away whilst seductively lifting and lowering her revealing mesh crop-top to flash her tiny 34DD titties to the camera before losing her baseball cap to let those luxurious blonde locks flow freely. As if that's not enough, Peach then slathers her boobs with baby oil (the bitch!) and beckons me with her pierced tongue to join her in a DD-cup titfuck (OK, so perhaps that's just wishful thinking on my part).
Honestly, I've never had such a relatively small-chested girl make me so hard! I demand an explanation!! Cel, leave it to you find a wee lass that has such a profound anatomical impact upon me, as I've always tended toward more voluptuous women (chubby-chaser that I am). Now you've ruined it, and got me thinking quite seriously about broadening my sexual horizons. Double-damn you, but don't stop! Please, PLEASE continue to give us more and more of sexy little 34DD Peach on XX-Cel.com: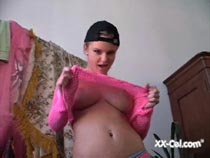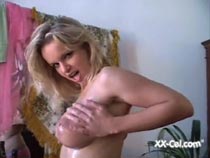 (note: actual videos downloadable from the site are 640×480 resolution)
CLICK HERE TO VISIT PEACH 34DD AT XX-CEL.COM

Share and Enjoy
→ Return to MyBoobSite for More Big Tits ←