Whatever am I doing here on a Sunday? Well, I'm sure that most of you have already seen the pics of Rachel Aldana & Denise Milani together in their itsy bitsy bikinis that myself and martinjh99 posted in MyBoobSite's forum (for those who don't frequent our forums, I'll re-post them here)…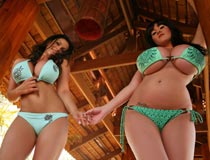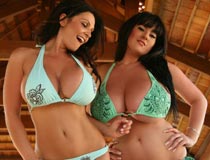 (note: actual photos downloadable from RachelAldana.com average 2000×1500 resolution)
…perhaps the most thought provoking post subsequent to those photos came from MyBoobSite regular resident Dr Evil…
Dr Evil wrote:

Crikey, talk about when Goddesses collide!

Now, the question that I'm sure has gone through most people's heads is "Will Rachel convince Denise to get her top off at some point?".

Who would have thought anyone could make Denise's boobs look on the average (ie. size) side??
…well, Dr, your question regarding Rachel's ability to convince Ms Milani to at long last bare her big boobs for all the world to see sent me down the decidedly dark and disturbing path of contemplating the catastrophic consequences of the opposite occurring – Denise somehow encouraging Ms. Aldana to keep her tits in instead! Indeed, this would be a sad day for big breast lovers the world over and a possibility I'd prefer not to consider. However, in the most recent promotional video clip I received from her site, there's nary a nipple to be seen! Did they conspire specifically to do a non-topless shoot of this boobsome twosome so as not to embarrass the more conservative Ms Milani by having Rachel expose her decidedly bigger tits whilst Denise remained conspicuously clothed? Perish the thought! However, I've not seen the full video as yet so I really couldn't tell you. But, if the preview clip is anything to judge by, then I fear the worst. Nonetheless, here's beautiful bikini clad babes Rachel Aldana & Denise Milani in the bare boobless video clip in question from RachelAldana.com: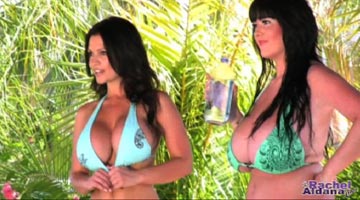 CLICK HERE TO VISIT RACHEL ALDANA & DENISE MILANI AT RACHELALDANA.COM

Share and Enjoy
→ Return to MyBoobSite for More Big Tits ←