Ah, the world is bright again and I've got a smile on my face. Why? Well, I've just been over to the new & improved Plumper Pass only to find a most wonderful new video of Samantha 38G & 36JJ Maria Moore together once again in one of the sexiest lesbian scenes I've seen in a long time!
But first, a brief word on this "new & improved" business: The first thing I noticed in the revised layout was their comprehensive model directory which includes the stats & measurements for all of their models that I so crave in writing these blogs. The next was the embedded rating system, allowing members to vote for their favourite models & scenes (which is precisely what I did to occupy my time whilst awaiting the download of this massive 270MB movie) and then displaying them by rank. Indeed, this new, easy-to-use format has transformed PlumperPass from being merely the best big tit plumper & BBW video archive into a valuable reference resource for us lovers of voluptuous women (as well as making it a lot more fun!).
On to the 34 magnificent minutes of big tits girl-on-girl goodness that is the video, Sam & Maria have really outdone themselves on this one (although I would dispute the claim in the first clip that this is Maria Moore's first girl-girl scene, as we've seen this self-same boobsome-twosome together before in those lovely lesbian videos on Sam's site (eh, maybe she means this is her first g/g scene for the Plumper Pass sites, since she'd only done solo scenes and boy-girl hardcore there previously (then again, the video might've been shot earlier and they just got around to editing and posting it (but that's all beside the point, really, and I've gotten so far off the beaten track with these parenthetical remarks that I'd best just start a new paragraph))).
Samantha & Maria certainly do get decidedly down & dirty in this one. Once they'd released each other's huge breasts into the wild, there's a good bit of sublimely sensual tit-sucking and nipple-licking between the two before Sam whips out her plastic penis, which they then begin licking up & down the length of its shiny pink shaft. I do so admire Maria's eagerness for sucking cock as well: When, in the midst of giving their tongues a break leaving Sam just waving her cock in the air, Maria dives mouth-first onto the manumit male member and launches into an enthusiastic blowjob.
My favourite bit, though, comes next when Sam commences the curious tit-to-clit action which provided the titular theme to today's blog, rubbing an erect nipple up and down Maria's luscious labia lips before pressing it into her clitoris. From there, we move on to the dildo tit-fucking wherein Samantha mounts a supine Maria Moore to slide her faux phallus into the colossal cavern of JJ-cup cleavage created when the latter squeezes her huge breasts together. Sam then thoughtfully redirects the vibrator's penetration attentions to Maria's wet & waiting vagina, repeatedly plunging the penile probe into Maria's pussy as she quietly moans her approval.
It's just wonderful to see the fruits of the blossoming friendship between these two big boobs supermodels ever since they first got together late last year, as this video demonstrates their growing mutual comfort in pleasuring each other's beautiful bodies in every way possible between two women. When all is said and done, though, it turns out to be Maria Moore's masterful muff-diving madness, showing a remarkable expertise at cunnilingus (man, she sucks that clit hard – she must have done that before!), which propels Sam over the edge and into an intense screaming orgasm (after which our pendulous pair of Sapphic sirens share a sexy lesbian kiss, thus providing a sexually satisfied Sam with a lingering taste of her succulent vaginal juices from Maria's moist lips and tongue). *sigh*
What more can be said? Indeed, if I wasn't already a member of Plumper Pass enjoying the 140+ other voluptuous, busty beauties they've got on offer, this one crowning moment in the history of massive mammary movies alone would be enough to get me to subscribe. But enough of my fawning (even though Sam & Maria are both certainly most deserving of the highest praise), here's Samantha 38G & 36JJ Maria Moore in the most exceptional lesbian video ever at PlumperPass.com: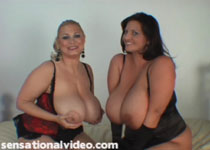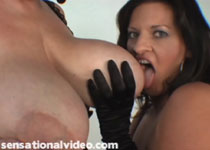 (note: actual videos available for download at the site are 640×480 resolution)
CLICK HERE TO VISIT SAMANTHA 38G & 36JJ MARIA MOORE AT PLUMPERPASS.COM

(webmasters)
Share and Enjoy
→ Return to MyBoobSite for More Big Tits ←