On my recent Rachel fake tits tan blog, My Boob Site regular Nick brought up a lot of interesting issues with respect to breast size stats stated on big tits sites. And, while most of his observations were with regard to Rachel, the differences between US & UK bra sizes and the way a given busty model's cup-size seems so variable from site to site, appearing to be little more than some big boobs porn promotional ploy for marketing massive mammaries, Nick also went on to address the overuse use of wide-angle lenses in large breast photography, and it was at this point that September Carrino came into the equation, citing her recent measurement video as a verification source of accurate tits statistics, so I thought we'd best take a look at the evidence courtesy of this September Carrino measurements montage I made from her most recent breast measuring video at SeptemberCarrino.com…
Loading the player…
(right click here to download video preview)
…but, even after viewing the video, I had problems applying My Boob Site's accepted European EN13402 bra-sizing standard to arrive at an accurate cup-size conclusion in September Carrino's case. First off, forget her 18-inch breast circumference, 3-inch areola diameter and the 11 inches between her nipples, as these seem like totally superfluous measurements (unless she's being fitted for a nipple chain, nipple shields / pasties or a big breast cosy of some sort, respectively in reverse), we only need her bust-line and under-bust measurements for the purpose of my cup-size calculation.
Trouble is, while I'm fairly confident her under-bust girth (which is roughly equivalent to bra band-size) is 28.25 inches, the video shows two different bust-line measurements! Which do I use? When the other girl measures her boobs, September's bust-line comes to 38.25 inches (albeit with a fair bit of tension in the tape, causing her breasts to deform a little) whereas, when Ms Carrino measures her own tits more loosely, it's 39.75 inches (September says 40 inches, but I didn't want to round up at the risk of losing accuracy).
So I used both, converting to metric so our cup-sizing standards could be applied and, consulting its tit-sizing table, found the other girl's breast measurements came out to a G-cup (97.155cm bust minus 71.755cm band equals 25.4cm cup), while September's self-measurement yielded a J-cup (100.965cm bust minus 71.755cm band equals 29.21cm cup). Thus, I must admit I'm still none the wiser as to how big her enormous norks actually are, sta-tits-tically speaking. Alas, if only she'd show us her big bra size label…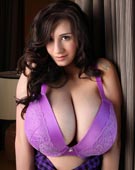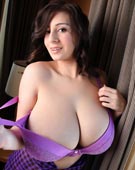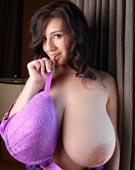 …my cup-size conundrum could be resolved once and for all. Now, granted, I realise this has nothing to do with Nick's issues over the breast enhancing effects of wide-angle lenses, but it was a fun tits diversion and, after all, we can always address his more pressing mammary gland matters another day.
Oh, and since we had a veritable voluptuous montage of September Carrino videos in my last boob blog of hers…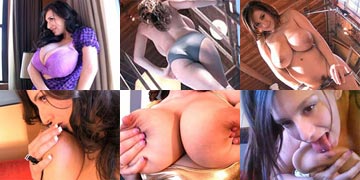 …I thought we'd do an update on her more recent photos this time, once again courtesy of SeptemberCarrino.com: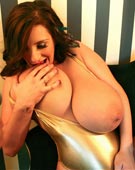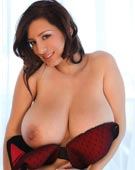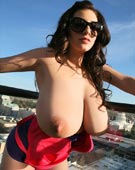 CLICK HERE TO VISIT G-CUP to J-CUP SEPTEMBER CARRINO AT SEPTEMBERCARRINO.COM

Share and Enjoy
→ Return to MyBoobSite for More Big Tits ←