Sorry for writing a rubbish blog yesterday, but I just wasn't much in a mood for massive mammaries. Thus, I thought I'd wake up fresh this morning and seek erotic inspiration to rekindle my long-standing love of large breasts once and for all. Finding the September Carrino site already open in my web browser, I decided to delve deep into her archive, searching for something – anything – which would arouse my interest in tits big and beautiful. The first thing that caught my eye was this sexy candid nude photo from before her boobs grew huge as they are today…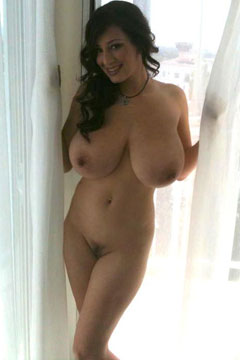 …as it's grainy feel filled me with happy mammary memories of the sort of amateur Polaroid photos guys used to take of their girlfriends topless (and which served me well on those long nights at sea). Seeing September Carrino naked and so beautifully back-lit, her curvaceous tits standing out in stark contrast to the shadowy, slender figure of her slim and stacked body, was truly a picture of big breast perfection.
But I had to dig deeper, as if looking for some visual aphrodisiac to stimulate more primal sexual instincts of lust over large breasts on a well-endowed woman. And it was then that I came upon the holy grail, genitally speaking, of the whole of SeptemberCarrino.com (imho); a sequence of shots wherein we witness the surprise of sexy September losing her bikini bottoms hidden within her collection of Hot Oil candids…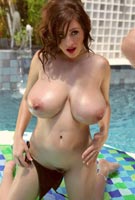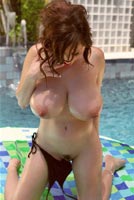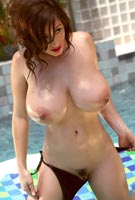 …it was that third photo, specifically, which got me so excited. If you can stop staring at her big oily boobs for a bit and instead zoom in and let your genital gaze glide down between lithesome legs to her pretty pussy, you'll see precisely what I'm talking about.
Yes, September Carrino has an erection! Granted, it's only a semi- and quite possibly caused merely by the tactile stimulation of friction from the cloth of her bikini bottoms rubbing up against her sexy female genitalia rather than erotic evidence of some sexual arousal from another source, but I'm just so used to seeing September flaccid with the tidy little pussy lips of her labia minora tucked away between the cleavage mounds of labia majora that leaving her voluptuous, neatly shaved vulva vulnerable to our visual invasion and revealing even slightly swollen labia lips lovely was a rare twat treat indeed (since, quite frankly, the chances we'll ever get to 5th base with Ms Carrino's cute cunt are unlikely at best).
But, wait, that's not about boobs, is it? Buggery bollox! Still, I can't help but feel that one photo allowed me to get more intimate with September Carrino by pussy loving proxy than ever before. But, since this is my boob site, I also feel I should turn the focus away from her fine feminine flaps for now and get more intimate with her tits before I go. And so, with a breast-centric close-up view in mind, let's catch up with some recent September Carrino videos from SeptemberCarrino.com: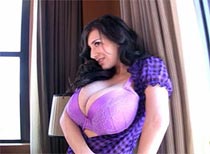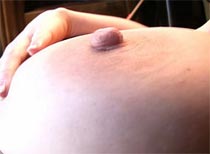 CLICK HERE TO VISIT JJ-CUP SEPTEMBER CARRINO AT SEPTEMBERCARRINO.COM

Share and Enjoy
→ Return to MyBoobSite for More Big Tits ←