As soon as the comments started rolling in on my Mercy 44FF blog from last week, I realised that my post was somewhat incomplete. How dare I withhold the "juicy bits" from her site, reserving them for some indeterminate point in the future? How very dare I?! Thus, I thought I might use some of your own comments to help flesh out my introduction to the wonder of Mercy.
For example, Very Free wrote: "I've always liked those big ol' boobs, but her sweet, goofy girlish grin just doesn't match up with the hot 'n' nasty sex kitten she seems to want to portray. So I think I'd want to see her girlfriends before I'd sign up."
Well, VF, your wish is my command. I get to choose which of Mercy's girlfriends I feature, however, and my choice for today is Melonie Rose – not only because I adore Melonie's massive J-cup breasts with their dark chocolate nipples and huge areolas, but because I've never quite had the opportunity to use the term "big tit interracial lesbian porn" on MyBoobSite before (fneh, chew on that, GoogleBot!)! ;~)
And so, here's a bit of Mercy 44FF and just one of her many girlfriends, 42J Melonie Rose in this case, enjoying each other's big boobs and voluptuous bodies at Mercy44FF.com…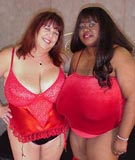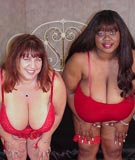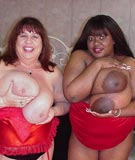 CLICK HERE TO VISIT MERCY & MELONIE ROSE AT MERCY44FF.COM
…but, by far, the biggest request from my last Mercy blog was for videos. My favourite of such comments came from a reader named Marco, who said, "nice reese… need vids of her… maybe with Vix… lol" [ed note: heh, in my dreams, right?]!
While I don't have any videos of Mercy with Vix [ed note: yet! ;~)], I did cobble together a few clips from one of the most recent videos she's posted on the members' section of her site. Now, I realise that many of you may have already seen a few preview clips from this one on Mercy's updates page, but I thought I'd edit together a few additional clips of my own in order to show my favourite bits from this 30+ minute Mercy fuck video (hmmm – a "Mercy fuck" – is that anything like a sympathy shag? and, if so, how is it that the guy in the video more deserving of such than me?!).
Case in point? I thought the way that Mercy gave this bloke a head-on titfuck with a bra on to help compress her colossal cleavage after liberally lubricating his cock with a blowjob was particularly clever, so I had to include a clip from that scene. Likewise with the vertical titfuck where he begins pounding her pendulous boobage with abandon (am I sensing a theme here?). The last two are just good, old-fashioned big breast sex to round out this wondrous tit-sucking, groping, fondling and fucking bonanza.
So, as an illustrative answer to VF's quandary of how Mercy 44FF with her sweet, girlish grin could ever match up to the horny sex kitten she seeks to portray, here are a few hardcore video clips from Mercy44FF.com: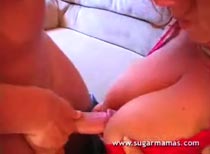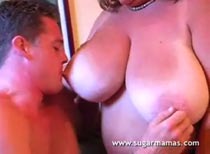 CLICK HERE TO VISIT MERCY 44FF AT MERCY44FF.COM

(webmasters)