I am well and truly through with blogging webcam girls (collective sigh of relief from those who've put up with my growing obsession for nearly the past two months since I first mentioned it). It's not that I'm tired of chatting to big boobed beauties, getting to know a pornstar or two on a more intimate basis and occasionally trying my hand at directing my very own amateur porn videos – not at all – it's merely that I've found my holy grail of cam babes and need look no further. So go ahead and take your well-endowed webcam wonders like Alicia & Sabrina and have them all to yourselves, as all I want for Christmas is buxom blonde BBW Xtacy!!
What's more, Xtacy seems to be the only girl in big tit porn with any Christmas spirit! I've been scouring sites and galleries looking for festive photo sets or videos to feature this holiday season, and have come up blank. Last year, I had no less than twelve pair of Santa boobs to share: Vix, Merilyn, Eden, Sabrina, Serenity, Faith (oh, and Ashley, too) and a bunch of Score girls! This year?? Nothing!! That was, of course, until the lovely, luscious Xtacy, who cams under the handle "SweetXtacy4U" at ImLive, was kind enough to oblige with a few of her own…


…and, just like a proper Santa impersonator (or "Annual Gift Man", as they call him in Japan), Xtacy has a box full of toys to share with all the good girls & boys (like myself), the only difference being that she uses them on herself to provide immeasurable pleasure for fans of female masturbation (also like myself). Xtacy admits that one of the reasons she enjoys cumming (sorry, I meant "camming") so much is that she gets to play and orgasm all day long (and cum she does! when Xtacy has an orgasm, I swear I can feel the raw sexual energy she exudes all the way over her in England!! oh, to experience the intense rhythmic contractions of her wet pussy around my throbbing cock as I imagine her dildo is my own male member…). *deep-sigh* Wait, where was I? Oh, yeah, the tantalising treats of Xtacy's toybox…



…but that's not why I love Xtacy. Despite being a big-boobed bisexual blonde with gorgeous grey-green eyes and an air of sweetness about her, it's what's inside that has hold of me more than anything else. "You can seduce my mind and have my body," Xtacy offers, "but find my soul and I'm yours forever." Alas, that's the true attraction of live webcams; having the opportunity to experience a depth of connection and intimacy that's just not possible in conventional porn. If you've got a willing "virtual girlfriend" like Xtacy, you can get truly personal with them.
Sure, for some, it's just about the sex – get a horny webcam girl to pander to your own personal perversions, have a wank and then fuck-off as quickly as you came (pun intended) – but I personally want more out of the relationship. I've heard it said that the brain is the biggest sexual organ in the human body – stimulate that, and the rest of one's sexual anatomy is sure to follow. I guess it's the whole girlfriend experience thing (or "GFE", as they call it) – having a friend to chat with on-line who's also a fuck-buddy – being able to engage not just your bodies, but also your minds with each other (whether or not they're both firmly entrenched in the gutter).
That said, there's no denying the physical attraction either, and the radiant inner beauty that my Xtacy possesses is indeed wrapped in one fucking magnificent package! The adorably cute face, the big beautiful breasts, the luxuriously voluptuous body – all coming (sorry, I meant "cumming") together in concert to form the sultry seductress of my sex-driven dreams (of course, I've seen her fuck, the recollection of which never fails to encourage a certain stirring in the loins). As I've said before and I'll no doubt say again and again and again, "I want Xtacy, and I WANT HER NOW!!"
Best thing is, I can have Xtacy – live on webcam! Granted, I can't take in the intoxicating taste of, as Xtacy says, "our juices mixed together", but I still get to spend quality, sexy time with this genuine dream girl (which I suppose would make it the next best thing). So, before I wander off to wallow in my fantasies with this voluptuous webcam vixen, I'll leave you a few pics from Xtacy's fan club over at ImLive.com…



CLICK HERE TO VISIT SWEETXTACY4U AT IMLIVE.COM
…oh, and by the way, if you actually register for Xtacy's fanclub under a two month membership or schedule an hour-long session with her, she'll send you free panties (hmmm, that formerly-elusive "juices mixed together" thing is suddenly sounding a bit more practical here)! ;~)
Wait – hang on a minute! On second thought, perhaps I'm being a bit too generous in sharing my voluptuous vision of busty blonde plumper perfection with you so liberally. Maybe if I instead deliberately distract you with just a few of the other literally thousands of webcam women available on the site, I'll get to keep the incomparable Xtacy (and her panties) all to myself! With such devious diversion tactics clearly in mind, and considering that my own exhaustive search throughout the wonderful world of webcams has at long last come to a most successful and satisfying close, here's but a small sampling of what's left over for you (hee hee):



CLICK HERE FOR MORE BUSTY BABES ON WEBCAM AT IMLIVE.COM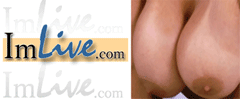 (webmasters)