It's only been a few days since my Divine Breasts Potpourri blog but, being the impatient bugger that I am, I decided not to wait for her upcoming appearance on DivineBreasts to show you the 27-year-old Italian H-cup wonder that is Alexandra Moore (especially after so many of you had told me about her). Thus, I took a wander over to her new Alexandra-Moore website and fetched a few photos of the raven-haired beauty for myself (oh, and to share with you all, too)!
Born on Valentine's Day of 1979, Alexandra stands 5'10" tall and boasts measurements of 36H-26-37. I say boasts because, as she said for herself on the site, "Dear ladies, don"t hate me cause with my tall body and my large 36H breasts your man prefer to look at me. It is not my fault." While such a comment may not be the best way to win friends and influence people, especially those of the female persuasion, she's probably not wrong!
In addition to her gorgeous H-cup tits, I must admit that Miss Moore has a rather nice ass as well, and I'm by no means a butt-man by any stretch of the imagination. Then again, I find the whole package quite alluring – from the beautifully sensual and seductive face to her beach-lover's all-over tan down to the tidy Brazilian-style landing strip that guides you to her pussy – Mediterranean goddess material indeed!
Alexandra has harboured aspirations of becoming a model ever since she was a young girl growing up in Italy. Her father owned a camera shop and she would spend hours looking through the photography books there, dreaming of being the person in the pictures. Well, fortunate for us, she's finally decided to make the dream come true! And so, it's my profound pleasure to present 36H Alexandra Moore from Alessandra-Moore.com: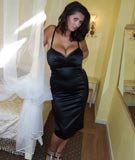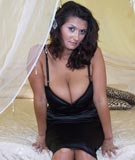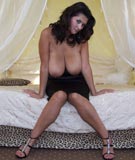 CLICK HERE TO VISIT 36H ALEXANDRA MOORE FROM ALEXANDRA-MOORE.COM