BoobsGarden, that is! It seems that January is bringing an early crop of new big tits models into our midst. Yesterday we added the stunning Italian Alexandra to our panoply of "Moores" (Maria, Chessie and, phonetically speaking, Eden), and now I find that Poland has been equally fertile in cultivating new cleavage queens for our consumption!
Anabelle Mayaa is certainly the cream of this new year's busty Polish crop, with long blonde hair, huge grey-blue eyes and succulent big tits which hang in a perfectly pendulous manner half-way down her lithesome torso (and the way they puddle on her chest with the tell-tale firmness of youth when she lies on her back is quite the sight to behold as well!). Yet another fine entry into MyBoobSite's slim-n-stacked category, methinks! Here's a bit of lovely newcomer Annabelle from BoobsGarden.com…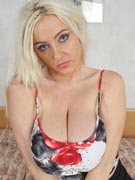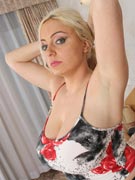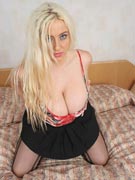 CLICK HERE TO VISIT ANABELLE MAYAA AT BOOBSGARDEN.COM
…but Anabelle isn't the only new arrival to the BoobsGarden brigade – there's also young Canddie (who looks positively smashing in pink lingerie) – and, beyond that, there are even (well confirmed) rumours of three more new girls joining the site soon! So, in order to keep you abreast of the developments on the busty Polish front (take the puns where you will), I thought it only sensible to run through a roster of their latest galleries.
Others include my still-favourite BG blonde Wanessa Lilio with her nipples poking out of a striking spiderweb knit bra that leaves little to the imagination, Malina May flashing her little pink pussy in the playroom, a blonde Bea Flora curiously pulling her pantyhose up beyond her breasts (can anyone say "cameltoe"?!) and, as a special treat, lusty lesbian Malina fucking Kora Kryk – today's lone non-blonde – with a strap-on dildo in the bath!
Here they are – the latest galleries from BoobsGarden.com: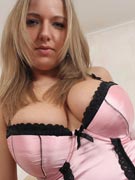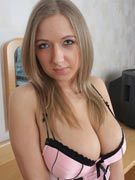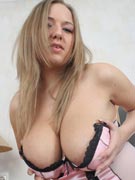 CLICK HERE TO VISIT BOOBSGARDEN.COM