You know the old saying, "If the bra fits, wear it?" Well, where Mercy 44FF is concerned, it ain't necessarily so! From the time I began chatting with Mercy, I raised my concerns that the FF-cup implication of her on-line monicker seemed a bit of a dramatic understatement. She just laughed and said her busty British girlfriends Sarah Jane & Vicki from Kinky Voluptuous had posited precisely the same; estimating her more at a GG- or HH-cup.
Ah, the perils of integrating your bra-size with your on-line persona. I'd mentioned this before with regard to "Sabrina90L" now wearing an M-cup bra. It happens all the time, though – a big boobs model becomes identified with a particular cup-size, achieves popularity, and then her breasts grow – just one of the hazards of the industry, I suppose.
Mercy finally did admit that she takes a 46HH in some brassiere brands, but can still fit those huge breasts into a 44FF bra in others (simply meaning that, with the 44FF measurements remaining occasionally legit, I can't in good conscience invoke the Trade Descriptions Act and then suddenly drop the case in lieu of an out-of-court settlement for some quality boob-time to bury myself in that colossal cleavage – more's the pity).
However, what struck me the most about Mercy's reply is that it was her British friends that echoed my sentiments. Aha! So she does come to Britain!! Thus, my "Begging for Mercy" plea (ok, perhaps 'fantasy' would be a more apt description) may well be within the realm of possibility!!! As further proof of her Anglophile inclinations, I offer the following physical evidence from her "Union Jack Off" series at Mercy44FF.com…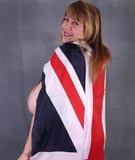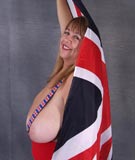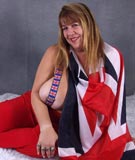 …and Mercy can't deny that she has loads of fun when she's over here "across the pond", either! Remember her two busty British girlfriends I mentioned earlier – Sarah Jane & Vicki? Well, I found another photo series on Mercy's site that shows what sorts of sexy shenanigans the girls get up to when they're together (and it's not just talking about big boobs, either!)!
With girlfriends like that, I'd move to the UK in a minute! [ed note: no, wait, I already live here] Then again, I suppose that Mercy's got some profoundly well-endowed friends back home as well. Alas, perhaps the following gentle reminder of her last horny holiday in England might encourage another trip. To that end, here's Mercy, Sarah Jane & Victoria from Mercy44FF.com: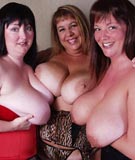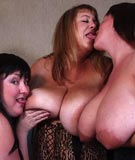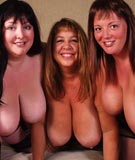 CLICK HERE TO VISIT MERCY 44FF AT MERCY44FF.COM

(webmasters)