With the publicity push on the new Alicia-Loren site having just officially started two days ago, I thought I'd jump on the bandwagon (despite having debuted Alicia 36JJ's new site with her first girl-girl shoot nearly a fortnight back). Reason being, I think Alicia's new second-home on the web (2nd because she's still producing copious amounts of photo & video content for DivineBreasts) really suits her, as she's looking better than ever (especially in that fake see-through tube-top)!
Thus, I thought it might be nice to honour Ms. Loren with an impromptu housewarming party (or would that be "sitewarming"?) wherein we all hop in bed with Alicia (figuratively speaking, of course, although I suppose the presence of that webcam perched in precarious proximity to our JJ-cup lovely doesn't preclude us from being on her bed in spirit) at Alicia-Loren.com…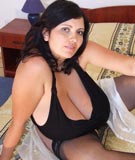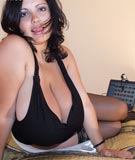 …and whilst we're all lounging (albeit virtually) in Alicia's boudoir, what could be better than a nice hot drink to warm our collective cockles? [Those of you who who were instead in rapt contemplation of offering Alicia a "hot drink from a thick straw", just behave!! We're guests here, after all.] Although I am wont to take my coffee black, I would be sorely tempted to try it with cream, mainly due to the delightful dairy dispensers Alicia possesses – a pair of 36JJ lactating tits with enough breast-milk to feed the multitudes (however does she keep that perpetual flow going?)!
And so, in a continued effort to extend a warm MyBoobSite "welcome to the neighbourhood" (now that it's officially official) and to acknowledge her udder perfection, I once again give you our hostess and erstwhile milk-maid 36JJ Alicia Loren from Alicia-Loren.com: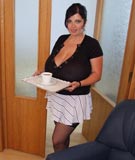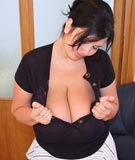 CLICK HERE TO VISIT 36JJ ALICIA LOREN AT ALICIA-LOREN.COM