What's a big tit model to do? You build a reputation based upon your name and bra size, and then your breasts grow some more. Case in point: Sabrina Meloni. Throughout her modelling career, she's boasted the fact that she needed an L-cup bra to support her massive mammaries – 90L to be specific! [Mind you, that's metric, so we'd more commonly refer to this as a 38L.] Sabrina even integrated her bra size into her name – "Sabrina90L" – for her new webcam videochat venture with ImLive.
However, if you go to Sabrina's host profile and then click on the video library link, you'll notice that her free promo video is described as "Taking off my giant M-cup bra and release my huge monster udders. Then doing a fist-massage on the wide surface of my boobs." Poor Sabrina. Will she have to change her name now? Or will she merely continue to wear her namesake too-small L-cup and suffer from that dreaded "quadra-boob" syndrome, where half the breast-flesh bulges out of the top of one's bra?!
No matter. We're here to talk about the new galleries on Sabrina's website, not her growing bust size woes or her new-found enthusiasm for live webcamming with fans (the latter of which I'd mentioned but a fortnight ago in a most shocking post). However, since we've touched on the topic, I thought I'd share some big breast bondage cam caps that she's recently added to her free photo gallery in hopes of attracting more visitors to drop by, say "hello" and wish Sabrina well in her new venture…



CLICK HERE TO CHAT LIVE WITH SABRINA MELONI ON WEBCAM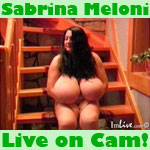 …my obligation now fulfilled to help Ms. Meloni in her latest on-line efforts, I can with clear conscience turn my attentions to her website (which I've sadly neglected for three months, ever since my "Attack of the Water Melons" post). Well, she's just released three new photo galleries to showcase her L-cup boobs (or should I be saying M-cup now?) so I figured I'd simply pass them along to you (what else would I do? keep them selfishly to myself?!).
It's the third gallery below – where Sabrina's in the bathtub – that I find most intriguing. Now, I realise that staring at big breasts all day every day for a living, as I do, tends to turn one a bit jaded. Your attention sometimes wanders away from the topic at hand and on to other things. And it's not just "on the job" that this happens, either: Vix & I will often be perving over the members' pics at our swingers' site, and suddenly notice that the individual or couple in the photo has the same bedding or couch or kitchen appliances that we do! It's kinda sad, really, but I digress…
In the case of the bathing gallery, it was Sabrina's unique plumbing that drove me to distraction. "If you just rounded the end of that long, hard shower head shaft," I thought quietly to myself, "wouldn't it make for the most amazing hydraulic dildo?!" Granted, the profound water pressure might be a problem, rendering it more a veritable vaginal power douche rather than an gushing pussy pleasure probe. Then I though, "Perhaps rolling a couple of condoms over the steely shaft would buffer it a bit whilst still retaining the surging sensation." Indeed, I think far too much about such stuff.
I'd best just get on to the galleries, courtesy of Sabrina-Meloni.com: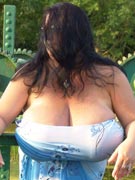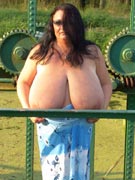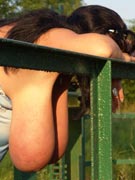 CLICK HERE TO VISIT SABRINA MELONI 90L AT SABRINA-MELONI.COM

(webmasters)